Do you have a whippety question? Enter here your query or keyword.
Whippet Dog Stories
Share your best whippet dog stories! Wheather your whippet story is moving, dramatic, amazing or funny, share it with us!
It's easy, just type your dog story in the user friendly form below and, if you wish, add a picture of your whippet. When you are done click the "submit" button and let hundreds of fellow whippeteers around the world enjoy the story of your whippet.

When your story will be published you'll receive a confirmation e-mail and your dog story will appear at the bottom of this page with the other visitors' contribution.
Click here to read what other visitors wrote and leave a comment to their stories.
We'd love to read and publish your stories about a whippet or a whippet mix. Other whippet aficionados around the world will appreciate them too!
You can tell us how you met your whippet or what makes him special, his or her peculiarities, hobbies or activities you share together.
Brush up your story telling talent. If you have amazing whippet dog stories to share, this is the place!
Here is a narration by one of our visitors about how her involvement with the whippet dog breed started.
Below you'll find more amazing, funny and moving stories about these great miniature greyhounds.


One Whippet is Never Enough!
by Sarah Seiderman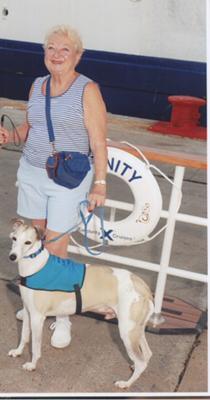 I have been breeding whippets since 1968. During my first encounter with the whippet dog breeders, I signed a contract that stipulated that they expected me to "show" the puppy they were offering me.
He was pure white with a lot of pigment. He had very dark "mascara" and golden spotted ears. I had never shown a dog and had a lot to learn. Luckily, "Snowy" won his Championship in the USA while still quite young.
When he was about a year old, I took him to my other residence in Portugal and began showing him there. At this point he had never been bred.
Strangely, one night, a nice dog followed us home. She actually looked like a whippet, but of course I could not consider her anything but a stray.
We eventually named her "Stella" because of the star on her forehead… and then she came into heat! There was little I could do to stop what happened next.
Suddenly Snowy learned what it meant to breed and (after being shown what to do) he went at it with a lot of determination.
So they "made love" several times, until the heat was over, and I was sure that I would have about a dozen puppies to find homes for but Stella had only one puppy! He was pure white like his daddy but with a black patch over one eye!
So he became "Pirate" and he was healthy and active. Unfortunately, I had to give Stella and Pirate to friends when I returned to America.
Since then, every breeding I have done with Snowy and other whippets has produced seven or eight puppies (so how to explain the one puppy?)
The last beauty I bred, more than 12 years ago, gave me seven females puppies!
I had developed a contract that insured these AKC registered dogs would have secure futures (possibly in the show ring, if they were so destined) and I interviewed and house-checked every applicant before placing them.
I still hear from some of those owners and their dogs have either been shown successfully or have been spayed and are doing well.
My recommendation to anyone interested in acquiring a dog of this breed is to make sure of your purpose in buying a whippet.
Show people know what to look for but many people buy from back yard breeders which sooner or later show bad flaws.
Watch out for a whippet puppy for sale with a curly tail, ears that stand up, lack of depth of chest and any sign of aggression. These are not good whippet dogs and are usually not registered with the AKC or the equivalent in your country.
If you do buy a whippet puppy for sale that is not perfect, there are many other activities besides showing at which your dog can excel.
Here in the USA, there is lure coursing, racing with or without hurdles, training in obedience, agility, flyball, jumping and other endurance trials.
Be absolutely sure to spay/neuter any whippet who is not going to qualify for the show ring! We do not want to reproduce faults in the breed.
Most whippets don't like the water but will run on the beach or in a field very happily. All of my registered dogs and their litters have had a minimum of exercise but they have all remained healthy and good-looking to the end of their "couch potato" existence.
And, finally, referring to the title of this note, I have a warning: one is not enough!
It is wonderful to have several whippets in the house. They are quiet, clean and marvelously affectionate. What else could one want in a pet?
And now is your turn to tell us your whippet story...
Have A Great Whippet Dog Story?
Do you have a great story about your whippet dog? Share it!
Whippet Dog Stories from Other Visitors
Click below to see contributions from other visitors to this page...