Do you have a whippety question? Enter here your query or keyword.
Whippets around Australia 2
Whippets around Australia
by Annie
(Darwin NT Australia)
Hi, I am Annie and I share my life with my 2 wonderful boys Clancy (Gelbregan Crystaldreamer CCD) and Connor (Jenizall Pass The Baton) they are of course both Whippets, in fact as far as I am concerned they are the Best Whippets in The World! (I understand if you beg to differ though)

We live a slightly different lifestyle than most people and their Whippets - we do not have a house, or at least not one that stays in one place! We have a little motorhome and we follow our noses and some work for me so as I can keep my boys in the manor they have become accustomed to!

Both boys come from Victorian breeders but we have been staying in the Northern Territory for the past 6 years working with the State Government.

Now I have itchy paws and in just a couple of months time we will be off for a wander again, slowly down to Victoria again (3700 k's) to house sit for a dear friend, then we are going 'overseas' to Tasmania for a slow wander around, then back to the big island and have a think about where to next!

The boys both love traveling with new friends to play with almost every day, a new 'garden' almost as often too, we do some obedience as we travel and young Connor enjoys a show or two if we are in the right place at the right time!

Our favourite past time is coffee shop and bakery quality control though!
There is nothing quite like camping out in the bush in a quiet spot and having absolutely no noise but for the soft breath of a Whippet or two on the back of your neck!

Click here to read or post comments
Join in and write your own page! It's easy to do. How? Simply click here to return to Whippet Dog Stories.
Whippets around Australia 2
by Annie Warner
(Darwin NT Australia)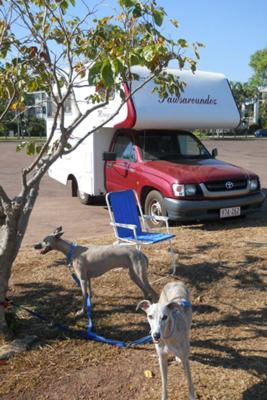 here we are getting set up
Hallo from Clancy and Connor again!

Our next long road trip is now only 3 weeks away and so we did some practice on Saturday morning, after our usual games and run we sat out at the Nightcliff park for our morning coffee and raisin toast, the breeze off the sea was cool and the view was really nice....take a look!


Join in and write your own page! It's easy to do. How? Simply click here to return to Whippet Dog Stories.