Do you have a whippety question? Enter here your query or keyword.
Find the Perfect Whippet Coats for Winter





How to measure your whippet coats for a perfect fit that will keep the coat in place and your whippet toasty.
My whippets don't mind the cold as long as they have a chance to run at their leisure but if they have to walk at a slow human pace about town or wait for me outside a shop, they do appreciate the comfort of a warm dog coat in a cold, rainy day.
Most generic dog coats will fit my dogs but I find that a specific whippet dog coat will fit and stay better in place on their shapely silhouette.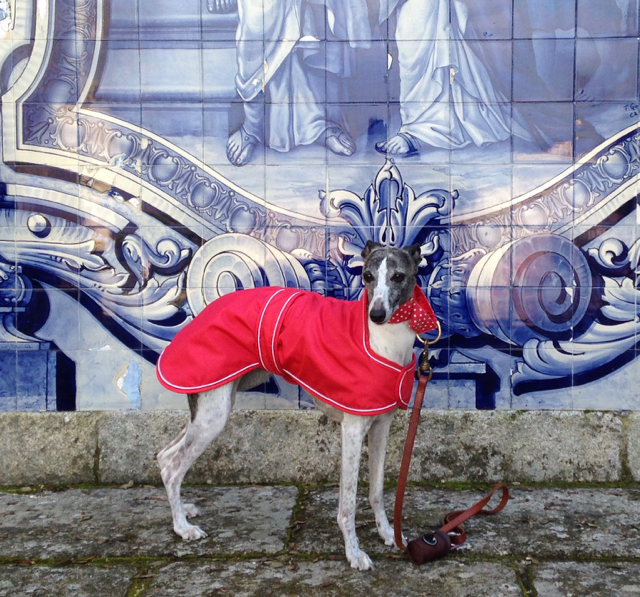 How to Measure a Whippet Coat


For a perfect fit you must find the correct coat size.
With the dog standing, using a measuring tape, take the length of your whippet back from the base of the neck (between the dog's shoulders) along the spine, to the root of the tail.
In the pictures below you can see the length to be measured, traced in red as seen from the back and from a the side of the dog.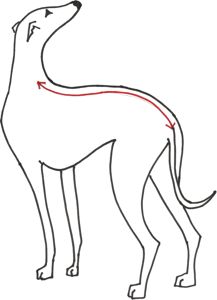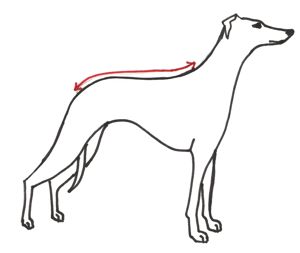 How to Make a Whippet Coat in Minutes!


Don't be intimidated by dog coat patterns and needle work. With this free pattern you'll learn how to make a handy dog coat in minutes.

All you need is and old Polartec blanket and a pair of scissors to make a fleece dog coat in no time.

Polartec dog coats are soft, warm also when wet, easy to wash and can make cheap whippet coats for the cold winter nights.

This dog coat pattern worked beautifully as an emergency solution during a trip but it can be used also to make handy pajamas.

We were traveling in winter with my elder dog and to my horror I realized that I had forgotten his warm whippet dog coat at home.

The poor thing was shivering and the fact he was old and a little underweight just added to my anxiety.

So with some old fleece blanket and a pair of scissors and I put myself to work to fashion an instant whippet coat.

It took me sometime to find a pattern that worked on my dog and the shape  below is the result of the sacrifice of various innocent fleece blankets but the end result is a dog coat that works well and looks elegant.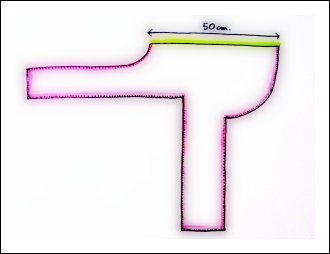 Draw this shape on an old newspaper. For a medium size dog like a whippet the fold line (in green in the pattern) needs to be about 50 cm. (19.6 inches) long.

Cut it out and lay it on the fleece blanket folded in two. Place the side with the green line over the fold of the blanket.

Cut the shape into the fabric. Fit it on your dog with a knot in the front and one over the back.
And this is my Zippo wearing his warm dog fleece coat.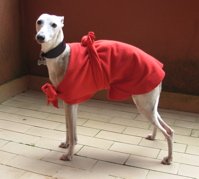 Make Your Own Dog Coat




Click on the title for instructions and free dog coat patterns to make your whippet dog coat at home.

Did you make a whippet dog coat at home? Show it to the world! Send us a picture and a story with the form at the bottom of the page!









Racing Gear



Find out what are the essential whippet clothing for the racing dog: racing jackets, muzzles and slip leads.

In this page you'll find all you need to spend a day in style and comfort for you and your whippet at a coursing or racing meeting.






Did you make a whippet sweater or coat? Share with other whippet lovers your masterpiece.
Send us the pictures of your dog wearing his new coat with the form below!
Do You Enjoy Making Whippet Dog Coats?
Do you make great whippet dog coats? Send us a picture of your pet wearing your masterpiece!
What Other Visitors Have Said
Click below to see contributions from other visitors to this page...