Do you have a whippety question? Enter here your query or keyword.
Whippet Breeders


Whippet breeders: where to find them, what to look for and what to avoid. Check out my pages for a breeder near you and list your whippet kennel for free!

We often receive inquiries about reputable breeders from visitors who are looking for whippet puppies for sale, because finding a puppy of this breed is not always easy.
Good puppies cannot be mass produced and breeders are not always easy to find.
Whippets are (unjustly) not as popular as other dog breeds and sometimes looking for whippet puppies can be a labour of love.
Whippet dogs are not overbred because they didn't appear on movies and are not famous characters in novels or ads.

Someone said that whippets are the best kept secret of the dog world because the breed has a lot to offer but is not well known to the large public.

This might seem a disadvantage when you start looking for a whippet puppy because it might take sometime to locate the perfect pup.

This situation though, offers the advantage that most kennel owners are not in for the money, they are long time fanciers of the breed, have the best interest of their dogs at heart and breed with great dedication and responsibility.


This guarantees that often a breeder dedicated to whippets will do an excellent job and will strive for excellence focusing more on the quality of the pups than on the quantity.

Finding the puppy of your dream may require some time but, especially considering that your can expect your whippet to be your faithful companion for the next fourteen years, it is worth doing a little research!





Where to find Whippet Breeders

When you begin looking for a puppy, start local.

Not all breeders are willing to ship a small puppy far away and the dedicated ones will want to know you in person.

It's important to meet personally the breeder, get to know the parents of your puppy and ask all the questions you can have about the dogs of that particular line.

Also be ready to answer questions, a good breeder will want to know where his or her puppies are going and make sure they have all the chances to a long and happy life.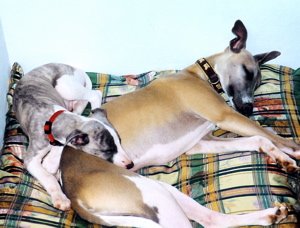 The best breed showcase for reputable whippet breeders are the local dog shows, coursing and racing meetings where you'll be able to see the dogs in action and speak to the breeders about their favorite subject: their dogs!

Seeing different dogs will also give you an idea of the kind of dog you would like: which abilities, temperament and color are best for you.




What to Look for in a Whippet Breeder



I think that the first and most important step in selecting a puppy is to choose the right breeder.
Although show whippets are known to have become excellent coursing dogs, if you think you would like your whippet to be a coursing champion, look for a breeder dedicated to this activity.
Attending a coursing event is an excellent occasion to see the dogs in action, speak with aficionados and local dog breeders and find out about upcoming litter of puppies.
On another hand if you are more interested in the elegant type of show whippets, local dog shows are the perfect place to familiarize with the breed and get to know the best kennels of your area.
Reputable whippet dog breeders are competent and enthusiastic about the breed. They will happily speak about their dogs and breeding program.
Probably they have been involved in whippet activities for years and will welcome a visit to their breeding facilities.
Passionate breeders will be glad to introduce you to their dogs and tell you about their characteristics.
If puppies are available, a good breeder will know their temperament and will be able to suggest the best pup for you and your lifestyle.
I can't stress enough how important it is to visit the kennel and meet the breeders in person before making a purchase.
What to Avoid



Those lovely puppies in the pet shop window are very tempting but it's difficult to assess where they come from, what's their age and state of health. A sick puppy can be a heart breaker and a financial disaster.
Be aware of anyone who offers to deliver the puppy directly to your home. It might be a way to prevent you from seeing the mother of the puppies and the breeding facilities.
Be suspicious of anyone who offers cheap puppies for sale or free puppies to good home especially if they are claimed to be pure breed.
Breeding dogs responsibly is expensive and, alas, good whippet puppies cannot be for free.


Whippet Breeders Listing


Check out the whippet kennels listed below. They are divided by location and you can contact them to find out if they have available puppies and set an appointment to visit the kennel.
Please note that I cannot endorse any of the listed kennels. I strongly encourage you to visit the breeder, check the facilities and meet the dogs in person. 

If you are a whippet dog breeder and your kennel is not listed, add it here!

This service is completely free. You'll reach thousands of visitors and you'll provide a great service to all whippet lovers out there!

You can easily write a page about your kennel, publish free pet ads that will reach thousands of targeted visitors and brag freely about your dogs!

Please don't forget to add your contact information or your web site address.



Are You a Whippet Breeder ?
With the form below whippet breeders can easily write a page about their kennel, publish free pet ads that will reach thousands of targeted visitors and brag freely about their dogs!

Have your friends add comments to your page, this will make it jump up in the list of whippet breeders.
Other Whippet Breeders
Click below to see contributions from other visitors to this page...

To find out where the dog shows, coursing and racing events are, have a look at my whippet clubs page.


Try this page if you want to find out more about the origin of the breed and historical whippet kennels.


Do you live in the UK? Look here for UK whippet breeders