Do you have a whippety question? Enter here your query or keyword.
My Whippets

Meet my wondeful whippets!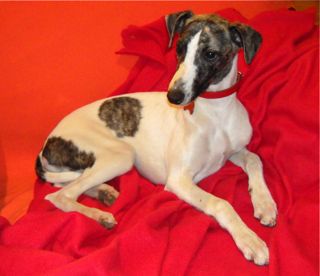 This is Lola, she is the latest addition to our family.
She comes from a distinguished family of whippets from Spain.
She loves to chew whatever she can sink her teeth in, run, play and snuggle close to her favorite humans, all according to the best whippet traditions.


And here is an older picture of myself with our first two whippet dogs.
How did we discover and fall in love with this great dog breed?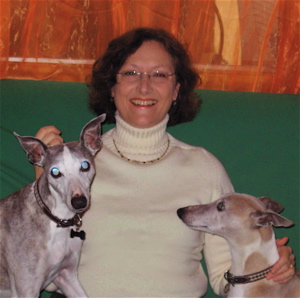 Well, years ago, while we were living in Greece, my little lurcher began to really show her age and we started to look for a puppy while preparing for the inevitable.
We wanted a dog with the same qualities of our lurcher: lively outdoor but calm inside, reliable with the kids and easy to handle, good looking and not too demanding.
We set our mind on whippets and luckily we found out there was a litter of whippet puppies for sale not far from our home.
We went for a visit and decided on the spot we couldn't live without one of those gorgeous pups.
Just before the pup was ready to come home with us our lurcher died of old age and to the puppy was left the hard job to replace her in our hearts.
The puppy did so well in his job that we decided to give him a little companion.
For well over a decade now our whippet dogs worked hard at providing us companionship and exercise, keep the yard free of vermin, announcing guests, warming up sofas, filling our weekends with lure cursing and agility meeting and giving remarkably little trouble in return.
Even though we are a traveling family and we have to move often, our dogs adapted to any of the circumstances we found ourselves in and helped us to recreate a feeling of home wherever we went.
To thank our dogs and this marvelous breed I decided to build a website online.
I hope you enjoy reading it as much as I like creating it!