Do you have a whippety question? Enter here your query or keyword.
Whippet Rescue Bulletin Board

Looking for whippet rescue? Lost whippet? Is your hound looking for a mating partner or a play date? Do you have a new litter of whippet puppies? Post your messages here!
We would like to make our website a meeting point for whippeteers all over the world.

An ambitious project? Yes, indeed!

Often visitors ask us about whippet rescue, new litters of whippet puppies or whippet clubs and meetings.

To keep everyone in touch and updated with the latest news, we created this page to post announcements related to whippets and sighthounds.
Is the playing style of the dogs in your area too static for your whippet? Look for an appropriately fast playmate for your hound in your area with an announcement in our pages.

Do you wish to breed your whippet and you are looking for a female whippet or a whippet dog for stud? Post your request in our pages and find the perfect match!

Are you an occasional breeder (we have this page for established kennels) and your kitchen has just been taken over by an army of wriggling whippet puppies? Let the world know about your new beautiful pups.

Did you fall in love with the breed, decided to share your life with one of these wonderful hounds and you would like to adopt a whippet? Let everybody know and help a whippet in distress!

We believe a dog is for life but sometimes unexpected things happen. A divorce, a moving, an illness or unforeseen circumstances are forcing you to part from your whippet dog? You can place an announcement here to find a new home for your companion.

Specify the sex, age, color, temperament, characteristics and abilities of your whippet, add up to four pictures and post them on our whippet adoption bulletin board.

Is your whippet missing? Spread the word to increase the chances to find him quickly and bring him safely home.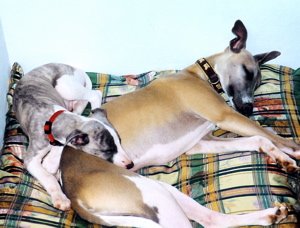 Make your announcement here for free! Your message will reach thousands of whippet aficionados all over the world.

How to do it? It's easy! Just fill the form below and write your message! Don't forget to add your contact information and you are online with a new page!

We'll only keep few postings at the time, with the newest ads first to make sure they are up to date.

All announcements will be only about whippet or sighthounds to provide the best, selected information to our visitors.

Welcome to our whippet dog bulletin board!




Do You Have a Whippet Related Message?
Do you have a whippet related message to post on our bulletin board? Write it here and spread the word!
Read Other Visitors' Messages
Click below to see messages from other visitors to this page...