Do you have a whippety question? Enter here your query or keyword.
Whippet Poems
Whippet poems contest: send us your most inspired poems. The best rhymes will have a special place on this page!

Try the limerick as form of poetry. Limericks are easy, fun and they will unleash your mischievous, nonsensical nature.
Even I (probably the least poetic person in the world) tried to write a limerick about my dog.
Here goes the fruit of my poetic efforts.


There was once an old whippet in Rome
who always chew on a tasty bone
he fell from the couch
but he didn't say "ouch"
That silly old whippet in Rome

Best Whippet Poem (so far...)



And this is a lovely and clever limerick sent by a visitor:
The Pain in Spain Comes Mainly from Great Danes



by Maryann Valois (Elk Mound, WI)





There once was a whippet in Spain
who had never experienced pain
except for the time
that he swallowed a dime
that belonged to an angry Great Dane.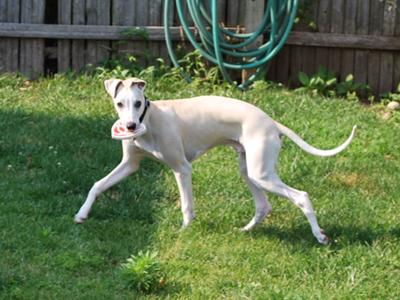 How to Create a Limerick



Here are the basic rules of the limerick:
*it's a five line poem
*it is humorous, witty and often nonsensical
*the end of the first, second and fifth line have one rhyme and the third and forth a different one
*the rhyme scheme is AA BB A
*the first line often introduces a place that also appears at the end of the last verse
*usually there are nine syllables in the first, second and last verse, five syllables in the third and fourth verse (9-9-5-5-9).
Edward Lear wrote many delightful limericks and popularized this form of poetry.
Here is a typical Lear's limerick:


There was a Young Lady of Ryde,
Whose shoe-strings were seldom untied.
She purchased some clogs,
And some small spotted dogs,
And frequently walked about Ryde.


Click here to read more about limericks.
Have a go, here you'll find a rhyming dictionary to trigger your creativity.
Celebrate your dog, have fun and enter your best dog poems below!
Did You Write A Funny Dog Poem?
Did you write a funny dog poem? Share it!
Other Visitors Poems
Click below to see contributions from other visitors to this page...

Go from Funny Dog Poems to TheWhippet.net Homepage
Subscribe to my Free Newsletter!
With the free e-zine you'll get a house training flash course plus a handy infographic.
And your e-mail address is always safe with us, don't worry!
Jul 15, 18 09:38 PM

Stevie is a Pippet, a whippet/pit mix and she is the best dog ever. She does not bark much and she loves to run zommies just to run! She is beautiful

Jul 11, 18 11:12 AM

Lola is just nine months old and cannot go a day without running in the park chasing her favorite ball. Well ok, every ball is her favorite ball. She

Jun 17, 18 04:29 AM

Toby is our new family member 14 weeks old he enjoys walking , hiking , spending time with other whippets in the family and going to puppy school.