Do you have a whippety question? Enter here your query or keyword.
Whippet Poems
Whippet poems contest: send us your most inspired poems. The best rhymes will have a special place on this page!

Try the limerick as form of poetry. Limericks are easy, fun and they will unleash your mischievous, nonsensical nature.
Even I (probably the least poetic person in the world) tried to write a limerick about my dog.
Here goes the fruit of my poetic efforts.


There was once an old whippet in Rome
who always chew on a tasty bone
he fell from the couch
but he didn't say "ouch"
That silly old whippet in Rome

Best Whippet Poem (so far...)



And this is a lovely and clever limerick sent by a visitor:
The Pain in Spain Comes Mainly from Great Danes



by Maryann Valois (Elk Mound, WI)





There once was a whippet in Spain
who had never experienced pain
except for the time
that he swallowed a dime
that belonged to an angry Great Dane.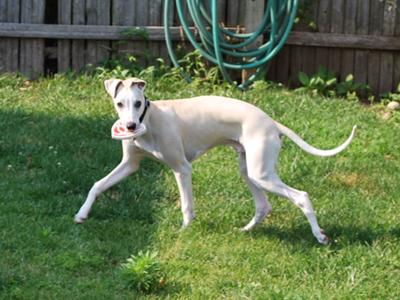 How to Create a Limerick



Here are the basic rules of the limerick:
*it's a five line poem
*it is humorous, witty and often nonsensical
*the end of the first, second and fifth line have one rhyme and the third and forth a different one
*the rhyme scheme is AA BB A
*the first line often introduces a place that also appears at the end of the last verse
*usually there are nine syllables in the first, second and last verse, five syllables in the third and fourth verse (9-9-5-5-9).
Edward Lear wrote many delightful limericks and popularized this form of poetry.
Here is a typical Lear's limerick:


There was a Young Lady of Ryde,
Whose shoe-strings were seldom untied.
She purchased some clogs,
And some small spotted dogs,
And frequently walked about Ryde.


Click here to read more about limericks.
Have a go, here you'll find a rhyming dictionary to trigger your creativity.
Celebrate your dog, have fun and enter your best dog poems below!
Did You Write A Funny Dog Poem?
Did you write a funny dog poem? Share it!
Other Visitors Poems
Click below to see contributions from other visitors to this page...

Go from Funny Dog Poems to TheWhippet.net Homepage