Do you have a whippety question? Enter here your query or keyword.
Interview with Whippet Breeder and Author Bo Bengtson

The renowned whippet breeder, judge and historian Bo Bengtson is the author of the most important whippet book ever published. Read our exclusive interview with Bo Bengtson.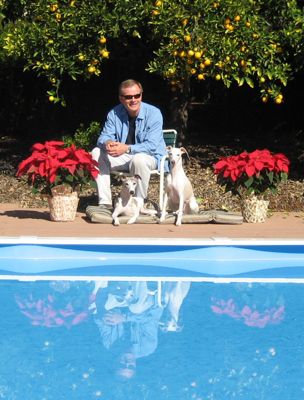 - Where did you find all the historical information for your book?
Since I've been around whippets for more than 50 years now, I've built up quite a collection of old Kennel Club stud books, old magazines, clippings, etc.
I also spent a lot of time at the AKC library in New York, and I correspond with people all over the world.
Most importantly, I knew a lot of the old English and American whippet breeders, and the information they supplied was invaluable.




- How did you become involved in the whippet breed?
I vaguely remember seeing a whippet when I was a kid in Sweden, and didn't like it at all.
It was probably one of those little shivery, mousy-looking creatures that were more common in those days. Then I saw a photo in a magazine of Ch. Laguna Lucky Lad, the first whippet to win the Hound group at Westminster (1957) and decided I must have a dog like that.
I worked at the Laguna kennel in England for a couple of summers as a teenager in the 1960s, learned a lot, and got my first dogs there.


- Do you have any special memory of your first whippet?
My first whippet, was not allowed to stay at home: my parents didn't want me to get one, so friends kept it for me.
When they (my parents) met that dog they soon realized that whippets were actually a very good choice in dogs, and I was allowed to bring one home.
The first whippet I had was Laguna Leader, whom I bought as a puppy in England. He was the sweetest, happiest dog ever – I don't think he was ever sad or ill or in a bad mood ever in his whole, long life.
He also became a champion, a Best in Show winner and I think his record as the all-time stud dog may still stand over there, but mostly he was just a great pet.


- Do your whippets compete in racing or lure coursing?
Not as much as they ought to do. They love it, but it's difficult to find time.
Those I've bred who get the opportunity have done really well, though. And my dogs do course (and kill!) ground squirrels and anything else they can whenever an opportunity arises.
Sometimes I wish they didn't have such a strong prey drive as they have, but it comes with the territory.


- What do you like to see in a whippet puppy? And in an adult?
First of all it's got to have a happy, confident and affectionate character.
Even puppies should be well socialized and know, to some extent, how to behave in public.
An adult whippet should be in hard, muscular condition — neither fat, soft nor too skinny: you should just be able to make out a few vertebrae.
The coat should be soft and shining, and the nails must be trimmed on a regular basis. Nothing makes a Whippet look as ill-kept as having long nails!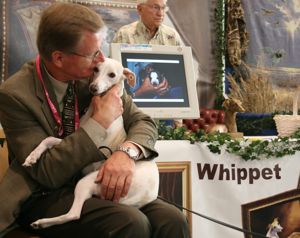 - Any advice you would like to give to a prospective whippet owner?
If you pick your puppy carefully, from a whippet breeder who cares about temperament and health, you're in for a treat.
Whippets are about as easy as any dog can be, provided you get one of the right kind.
If you don't like the parents' temperaments you probably won't have an easy time dealing with the puppy. There are far too many high-strung, unhappy, insecure Whippets around, and they should not be used for breeding.
Other than that, just love your puppy and use common sense.
Whippets are so sensible, sophisticated and adaptable you'll make it into an image of yourself. Hopefully that's a good thing!


- How do you choose a new puppy? And a show prospect?
I don't choose very scientifically at all.
Nobody wants to hear this, but it really isn't possible to say with any degree of certainty how good a 6- or 8- or 10-weeks old puppy will be when it grows up.
I always quote an old whippet breeder friend of mine whose answer when people asked her how a puppy would turn out was always: "Come back next year and I'll tell you!"
When I pick a puppy I just go by a sort of fingertip feeling.
Probably I subconsciously select certain characteristics that in my line tend not to change so much, but it varies a lot depending on the pedigree.
One thing I never compromise on is temperament. If the puppy is not confident and outgoing, forget it. It would not be happy with me, and I would not be happy with it!


- Any favorite whippet color?
In the old days in Europe when whippets were mostly fawn, I loved the bright dark red brindle and whites.
Now it's almost the opposite. I love all colors.
My youngest bitch is a dilute cream, which isn't a popular color in America, but the standard says "Color immaterial" — so be it.
It's actually a very beautiful, sophisticated color – sort of apricots and cream...


- What's your dogs' daily routine?
I drag them out of bed (not easy, my Whippets definitely like to sleep in!) around 8:30 – 9:00 AM. We take a half-hour walk, and I walk FAST, for a couple of miles before it gets too hot.
They are fed at lunchtime, and then they hang around my office while I work in the afternoon. If it's not too hot they can be out sunning themselves in the yard.
We take a second, shorter walk before it gets dark, and every couple of days they get to run on a large grass school yard next door: I toss a glove, or a rabbit skin, or something similar and they chase each other for a few minutes... In the evening the dogs watch TV with us.
I feed them again around 10:00 PM, and after working a couple more hours I take them out again around midnight.


- What are the goals of your whippet breeding program?
There's really no breeding program anymore: I haven't had any puppies in more than six years, and only co-bred two litters in that time.
It's been almost 45 years since the first litter, so maybe it's time to quit. However, others still breed from my old lines, and I think we'll breed a "last" (?) litter out of my cream bitch this fall.
That litter should combine pretty much all my best old dogs on both sides of the pedigree. Then we'll see.
If I had a goal when I started in the 1960s it was to produce internationally high quality whippets which were also functional, had happy, sensible temperaments and were as healthy and long-lived as possible.
I'll let others judge whether I've succeeded in that…


Thank you very much for your time, Mr. Bengtson. We wish you the best of luck for your new book and your future litter of puppies.
---
The Whippet is a beautiful and extremely detailed book, just released by the Kennel Club Classics.
It is written in an easy to read, distinctive style and presents an unparalleled wealth of information about whippets, with many chapters dedicated to the breed history.
This book is beautifully illustrated and offers an interesting collection of historical pictures of famous whippets.
Mr. Bengtson's book is a new, revised and enlarged edition. It is so complete that it should be savored in small doses more than read all at once. I keep it on my coffee table and I like to enjoy few pages and pictures at the time.
This is the ultimate work about the history of the breed and a must for any serious whippet lover.

Bo Bengtson established Bohem Whippets, one of the world's oldest, smallest and most successful whippet kennels.
Bengtson is one of the few people to have judged the breed at Crufts and Westminster Dog Show and is an undisputed authority in his field.
The author graciously accepted to answer all our questions in this exclusive interview and we are proud to present this precious gift to our visitors and all whippet dog lovers.
Hungry for More Whippet Info?
Click here for more whippet books.

Here you'll find the best dog training books
Looking for Whippet Breeders? Check Out These Pages



How to Find a Reliable Whippet Breeder