Do you have a whippety question? Enter here your query or keyword.
Whippet Clubs and Activities
Find out about whippet clubs, lure coursing, whippet racing, dog agility, Ashley the whippet, hunting, dog shows, and  hiking with your whippet.
These small hounds, although calm and relaxed in the house, are one of the best suited dogs for active people who can appreciate this breed's unique characteristics.
There are many ways to enjoy the outdoor with these multitalented dogs. Discover them in these pages.
Whippet dogs excel in lure coursing and racing. It is a joy to watch them show off their natural talents. The acceleration of a whippet in action is amazing.
Find out about these sports, the best whippet racing gear and how to train your whippet for these events.
Whippets are among the easiest breeds to prepare for the ring but training a show dog requires some preparation. Click here to read about our showing adventures with our new pup and find out how to train whippets for shows.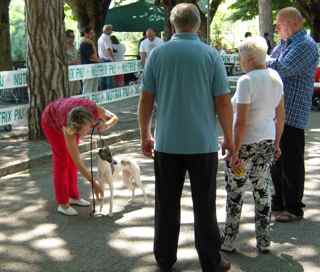 Find out about whippet frisbee training and how to teach your dog to catch a frisbee like Ashley whippet.


If you think only border collies excel in agility, think again. Not only whippets can be successfully trained but they can also excel on the agility course. Whippet agility training can be fun and rewarding.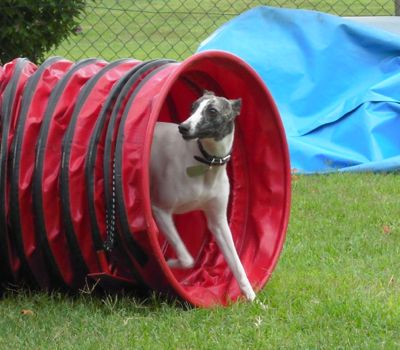 Hunting
Our small hounds have a strong chasing instinct and are great hunting dogs. Find out how to rise and train your working whippet with The Working Whippet by Helen Hansell.

Is a whippet a good hiking dog? You bet! Hiking with a whippet is a great way to keep fit and enjoy nature with your best friend. Find out about the best places where to go hiking with your dog in North America.
Whippets enjoy and excel in flyball, a relay race where dogs must catch a tennis ball released from a box and then bring it back to their humans over an obstacle course.
Whippet Clubs
We listed here some of the main racing and coursing clubs and their web sites addresses.
They offer useful information about local events and activities you can join with your whippet.
If you don't see your favorite club listed add it at the end of the page with a user friendly form.
There is no better way to enjoy your pet than participate in a coursing or racing event and you'll be able to share your passion with other hound lovers.
You won't understand the true nature of your whippet until you will see him in action!
Your couch potato will suddenly turn into a committed athlete.
To go to the web site of the American Whippet Club or the other international clubs, just click on the links below.
At the bottom of the page you will also find a form to esily list your favorite club.
Your listing will reach thousands of visitors every month and you'll give a great service to all sighthounds lovers out there.
Racing Clubs
North America Racing Association


American Whippet Club


The Whippet Club UK


National  Club of Canada


Club del Levriero
Lure Coursing Clubs
National Whippet Coursing Club UK
National open Field Coursing Association



Add Your Coursing or Racing Club!
Do you belong to a club and you would like to list it here? Add it now!
Include all the info about your club (phones, e-mails, location, info about training meeting and competitions).
It's a great way to let other whippeteers know about your activities and it's free!
If you would like to see the logo displayed on this page upload it too!
What Other Visitors Have Said
Click below to see contributions from other visitors to this page...

Great Lakes Whippet Club Canada Not rated yet
Great Lakes Whippet Club Canada was established in 1994 and is active in the Province of Ontario Canada. We offer conformation specialties, fun days …