My Two Beautiful Whippets
by Karen Mcwilliam
(North Lincolnshire)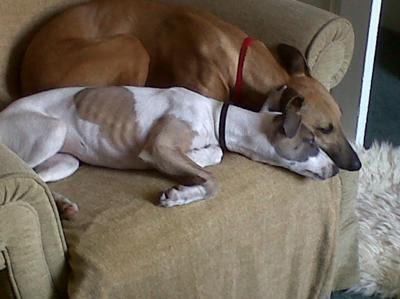 Firstly I have Pip, a 4 year old fawn whippet from Barnsley!

I've had her for years now and love her to bits. I don't think she knows that shes a dog and has no instinct to chase rabbits, (too much like hard work) maybe the odd squirrel or cat if one ventures into sight but that would need at least 6 hours of rest to recover from such activities!

She is a star. Never on a lead, even in a busy town, she won't leave my side, a true companion

Then I have Jip from Morley, a 4 month old hyperactive little tri-coloured whippet, who terrorizes poor Pip, total opposits of each other.

Jip loves to chase anything from a bee to a deer, she knows no fears!

She loves to play and everything is done at 100 miles an hour, even in her sleep she kicks and barks, but all in all she is turning into a very nice young whippet and I could never part with her!