My Two Beautiful Whippets
by Karen Mcwilliam
(North Lincolnshire)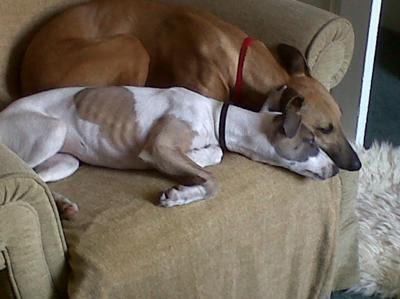 Firstly I have Pip, a 4 year old fawn whippet from Barnsley!

I've had her for years now and love her to bits. I don't think she knows that shes a dog and has no instinct to chase rabbits, (too much like hard work) maybe the odd squirrel or cat if one ventures into sight but that would need at least 6 hours of rest to recover from such activities!

She is a star. Never on a lead, even in a busy town, she won't leave my side, a true companion

Then I have Jip from Morley, a 4 month old hyperactive little tri-coloured whippet, who terrorizes poor Pip, total opposits of each other.

Jip loves to chase anything from a bee to a deer, she knows no fears!

She loves to play and everything is done at 100 miles an hour, even in her sleep she kicks and barks, but all in all she is turning into a very nice young whippet and I could never part with her!
Subscribe to my Free Newsletter!
With the free e-zine you'll get a house training flash course plus a handy infographic.
And your e-mail address is always safe with us, don't worry!
Jul 15, 18 09:38 PM

Stevie is a Pippet, a whippet/pit mix and she is the best dog ever. She does not bark much and she loves to run zommies just to run! She is beautiful

Jul 11, 18 11:12 AM

Lola is just nine months old and cannot go a day without running in the park chasing her favorite ball. Well ok, every ball is her favorite ball. She

Jun 17, 18 04:29 AM

Toby is our new family member 14 weeks old he enjoys walking , hiking , spending time with other whippets in the family and going to puppy school.