Do you have a whippety question? Enter here your query or keyword.
Whippet Rescue
Sighthound and whippet rescue organizations are run by volunteers who generously devote their time to dog adoption. Before rushing to buy a puppy, consider the advantages of adopting an adult dog.

To add your Whippet Rescue Organization for free, click here! Your page will reach thousands of targeted visitors and your whippets for adoption will dramatically increase their chances to find a new family quickly!
When I began looking for my second whippet, I first inquired with a sighthound rescue association.
The answer of the volunteer on the phone was:
"Sorry, no whippets available. Whippets are hardly ever given up for adoption!"
The devotion of these dogs to their owners is often paid back with equal attachment.
Also, whippets don't compete in professional coursing and racing and this fact preserved the breed from abuses and over breeding.
More often than not whippets are pets who in the weekend enjoy competitions with their human friends.
This privileged position gives most whippets the opportunity to became almost a family member and they are seldom given up for adoption.
But sometimes the unexpected happens and a whippet might be in the position of having to find a new family.
By an other hand, you might decide that your lifestyle allows a bigger pet and you might be tempted to adopt a greyhound or get interested in Spanish galgo rescue. Many galgos and greyhounds are destroyed each year although, once they finish their racing career, they can make marvelous pets.
Puppies are wonderful, they are cute, cuddly and fun but they also mean a lot of work and they might cost you a fortune in chewed shoes and furniture.
Adopting and adult dog offers many advantages.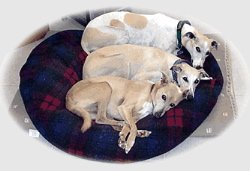 No guessing
You'll be immediately able to assess what your dog will be in the future.
Temperament, abilities, size and looks are evident and possibly the rescuers will be able to help you with your choice. What you see is what you get.
Easier training
An adult dog will learn more quickly than a puppy and, if you are lucky, the dog has already had some training from the previous owner or the foster care where he was placed before adoption.
Good feeling
Many dogs have to be destroyed for no faults of their own. Adopt a greyhound, rescue a galgo or help a whippet out of a difficult situation and enjoy feeling good about it!


Whippet Rescue Organizations

Here are listed some links of rescue organizations and sites about dog adoption click on the titles to open their pages.


This organization is devoted to whippet adoption, check out their available whippets.
Scruples Whippet rescue re-homes whippets in England, Scotland and Wales.
The National Whippet Club of Canada
Check out this page about whippet rescue in Canada.


UK based organization, the JR Whippet Rescue's objectives are, namely, the provision of assistance to Whippets.


This site offers a list of Greyhound rescue sites and detailed info about ex-racers rescue.


Information a about galgos and pictures of adoptable dogs.


Add Your Sighthound Rescue Organization
Are you involved in a whippet, greyhound, galgo or sighthound rescue organization and you would like to see it listed here?

Send us your info and let our visitors know about your activity.

Fill the form below, if you wish send us a picture of your dogs and don't forget to add your contact info, so our visitors can easily get in touch with you to adopt a hound.
More Rescue Organization
Click below to see contributions from other visitors to this page...

Dogs Are Family: is a website dedicated to the tail wagging, four legged members of the family. With so many lovable dogs stuck in shelters, please think of dog pet adoption first when considering your next furry companion.