Do you have a whippety question? Enter here your query or keyword.

Italian Greyhound, Whippet, Greyhound and More Sighthound Dog Breeds


Italian greyhound, whippe, greyhound and more sighthounds: everything you always wanted to know but were afraid to ask.


Types of Hound Dogs
Sighthounds and Scenthounds



Sighthounds



The Sighthounds also called Gazehounds, use their sight to locate and chase their quarry.
These hound dog breeds are the swiftest and most elegant dogs. As they are not expected to take directions from their masters when hunting, they are quite independent and sometimes aloof.
These types of dog breeds enjoy sports like lure coursing and racing and love running or walking with their humans.
Gazehounds are not as wired as the sporting dogs and after a good run or chasing a ball for few minutes, are happy to curl up on the sofa for hours.
Here are some of the best known hound dog breeds of the sighthound family: Italian greyhound, whippet, greyhound, Afghan hound, borzoi, Ibizan hound, Irish wolfhound, saluki, Scottish deerhound.
Guess what, my favorite hound dog breeds are the sighthounds and here I collected some fun videos and pictures of the most popular sighthound breeds. Enjoy!

Italian Greyhound, Whippet, Greyhound
This is a comparative picture of the approximate sizes of Italian greyhound, whippet and greyhound.
Do you want to learn more about their similarities and differences?
Check out this page Italian greyhound whippet greyhound and find more info here.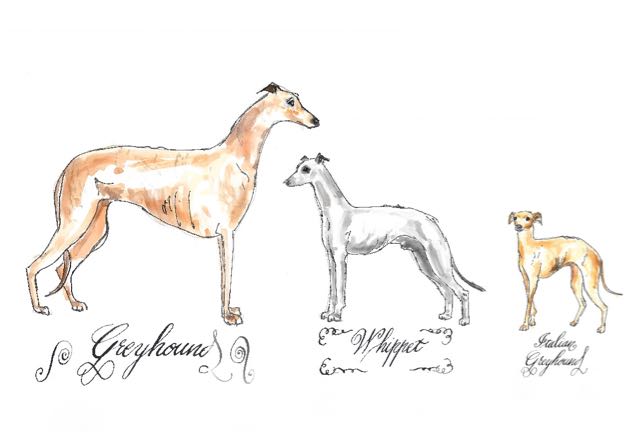 Afghan Hound
The Afghan is very independent and aloof with strangers but thrives on affection and requires an owner with great patience and sensitivity.
Something that dog breed photos cannot render is the elastic movement of these hounds.
The trot of these dogs seems light and almost effortless but don't be mistaken, all this elegance hides fierce and determined hunters that used to run down gazelles and leopards in their native land.
Don't you love this video? Afghan hounds are soo glamorous!

But don't forget that this hound dog breed demands a lot of determination and a good deal of grooming supplies to keep their striking coat in good shape.
These hounds are extremely elegant but also rustic, strong hunters and brave guard dogs. Afghan hounds offer to their people an exclusive loyalty that is reciprocated by their owners.
Irish Wolfhound
With their imposing size, the Irish Wolfhounds qualify as the largest dogs.
A dog breed of this magnitude with a bad temperament would be unmanageable and their history very short.
Instead the wolfhound breed accompanied man for many centuries, their easy going personality earned them the nick name of "gentle giant".
The devotion of these dogs to their human families and to children is legendary.
Probably the Celts imported the wolfhounds in Ireland and innumerable legends and poems testify of how precious were these hounds in the hunt and war.
The most famous story is about the brave Gelert, the Irish Wolfhound that belonged to Prince Llewelyn the Great.
Here is the story written on the dog's tombstone in the Welsh village of Beddgelert .
"In the 13th century Llewelyn, prince of North Wales, had a palace at Beddgelert. One day he went hunting without Gelert, "The Faithful Hound", who was unaccountably absent.
On Llewelyn's return the truant, stained and smeared with blood, joyfully sprang to meet his master. The prince alarmed hastened to find his son, and saw the infant's cot empty, the bedclothes and floor covered with blood.
The frantic father plunged his sword into the hound's side, thinking it had killed his heir. The dog's dying yell was answered by a child's cry. Llewelyn searched and discovered his boy unharmed, but near by lay the body of a mighty wolf which Gelert had slain. The prince filled with remorse is said never to have smiled again. He buried Gelert here".
With the extinction of the wolves, the role of the wolfhound lost importance and maintaining these demanding dogs became an expensive extravagance.
The systematic rescue of this hound dog breed started at the end of the 1800, thanks to few aficionados who were able to recover some of the last specimen and mated them judiciously with similar breeds.
In time, the fierce hunter attitude has given way to a mellow temperament and now the wolfhound finds his place as guardian (mainly for the impressive size) and family pet.
Watch below a "vicious dog attack" video of an Irish wolfhound.



Saluki
The Arabs consider the saluki a gift from Allah and a breed apart from all others. While regular dogs are held as impure creatures, the saluki is allowed in the home and tent and held in high consideration.
The genealogy of this hound dog breed is learned by heart and passed on from generation to generation like that of Arab horses.
The Saluki is a very ancient breed that after thousands of years keeps hunting and gracing with its elegance our homes and sofas. The saluki was bred to hunt independently and their beautifully fringed ears can turn quite deaf when it comes to obey an uninteresting command.
It takes a good deal of patience and persistence to obtain the respect and the compliance of a creature that has had its way for thousands of years.
Every effort is compensated though when this hound dog is allowed to do what it was bred for, hunting. The grace, strength and endurance of these hounds is legendary and to see one in action is amazing.
Want to see a saluki in action? Here you go!



Sloughi
The Sloughi is the prized hound of North Africa. Handsome, tough and independent, this dog is a hunter of hares and gazelles of great endurance.
In the Sloughi job description is also included the defense of his people and their herds. Early socialization and training is a must for these hounds.


Azawakh
This hunting dog breed of the desert is the hound of the nomads of the Niger, Burkina Faso and Mali where for centuries the Azawakh has been guardian and hunter.
The Azawakh movement is elastic and light, it reminds that of an arabian horse. This hound is drop-eared and the eyes are dark and almond shaped. This tall and elegant dog is found in Africa in a great variety of colors but the FCI allows only red, cream and brindle with white markings.
Shaped by a difficult habitat, these hound are extremely healthy and rugged. The Azawakh main role in his native lands is that of a guardian which make these dogs affectionate to their owners but aloof with strangers.
Not surprisingly, Azawakhs show tremendous stamina even in extreme heath conditions.

Scenthounds
The Scenthounds track prays using their efficient noses, some hunt by air scenting and others prefer to follow a ground trail.
Hounds are more independent than sporting dogs and tend to work at a distance from their masters. To signal their position and communicate with their human companions they use a characteristic sound called baying.
Before choosing a breed of dog from this group, make sure that their vocalizations are compatible with your neighbors and living style.
Scenthounds often work in packs and are very sociable creatures. They easily accept people and other dogs but might see small pets and cats as prey.
Scenthound often have long ears that are belived to channel the smells to their sensitives noses.
Not all the kennel clubs agree about which breeds should be assigned to this group and the list of Scenthounds breeds can be controversial.
These are some of the hound dog breeds commonly included in the Scenthounds group: Basset Hound, Beagle, Black and Tan Coonhound, Blood Hound, Dachshund, Foxhound, Grand Bleu de Gascogne, Harrier, Otterhound, Griffon Vandéen, Segugio Italiano.
Share your Hound Pics!
Share a picture or a video of Italian greyhound, whippet, greyhound or your favorite hound dog breed with a short story! You will build a web page about your pet for the whole world to see.
Just enter below the picture and add a short story about your dog. We want to know everything about your hound: the breed, age, sex, attitudes, accomplishments and characteristics.
Don't be shy, place your dogs in the limelight where they belong!
Are you Owned by a Sighthound?
Do you have a great picture and short story about your sighthound? Share it with other dog lovers!
What Other Visitors Have Said
Click below to see contributions from other visitors to this page...

Wolfhounds Are Not Guard Dogs! Not rated yet
In relation to the article appeared on the monthly e-zine about Irish dog breeds, I must note that the Irish Wolfhounds are GIANT sight hounds, THEY ARE …