Do you have a whippety question? Enter here your query or keyword.
The Whippet Dog Blog
The Whippet Dog Blog it's a journal about what's new at TheWhippet.net.
*You'll find here all the updates, new pictures, additions and changes to TheWhippet.net Web site.
*You will also find the new e-zines in case you don't like to give out your e-mail address.
To subscribe to my Whippet Dog Blog your e-mail is not necessary, just right-click on the orange RSS button at the left and then paste the URL into your RSS reader. Or click on the Google, My Yahoo!, My MSN, newsgator, or Bloglines button if you keep a personalized home page there. Click on the links below to open a new page.
Miss Wanda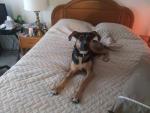 I found Miss Wanda at the Lee County (Alabama) Humane Society this past Saturday (08-31-2019). I could see the German Shepherd but was unfamiliar with
Subscribe to my Free Newsletter!
With the free e-zine you'll get a house training flash course plus a handy infographic.
And your e-mail address is always safe with us, don't worry!
Sep 03, 19 07:53 AM

I found Miss Wanda at the Lee County (Alabama) Humane Society this past Saturday (08-31-2019). I could see the German Shepherd but was unfamiliar with

Aug 20, 19 06:09 AM

We are looking to add a Whippet to our family. Preferably we would like a Whippet between the ages of 1-5 years old, that is female or a male on the smaller

Jul 22, 19 05:47 AM

Our newest little treasure Ozzy with his big sister Sassi. Ozzy is 13 weeks and Sassi is 3 years old. She enjoys her mid day naps after a playful romp