Do you have a whippety question? Enter here your query or keyword.
The Whippet Dog Blog
The Whippet Dog Blog it's a journal about what's new at TheWhippet.net.
*You'll find here all the updates, new pictures, additions and changes to TheWhippet.net Web site.
*You will also find the new e-zines in case you don't like to give out your e-mail address.
To subscribe to my Whippet Dog Blog your e-mail is not necessary, just right-click on the orange RSS button at the left and then paste the URL into your RSS reader. Or click on the Google, My Yahoo!, My MSN, newsgator, or Bloglines button if you keep a personalized home page there. Click on the links below to open a new page.
What breed is she?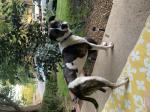 I just adopted Suki from the prison and parole program. The inmate believes that she's boxer/whippet. She's got boxer face and a long lean body. Long thin