Do you have a whippety question? Enter here your query or keyword.
The Whippet Dog Blog
The Whippet Dog Blog it's a journal about what's new at TheWhippet.net.
*You'll find here all the updates, new pictures, additions and changes to TheWhippet.net Web site.
*You will also find the new e-zines in case you don't like to give out your e-mail address.
To subscribe to my Whippet Dog Blog your e-mail is not necessary, just right-click on the orange RSS button at the left and then paste the URL into your RSS reader. Or click on the Google, My Yahoo!, My MSN, newsgator, or Bloglines button if you keep a personalized home page there. Click on the links below to open a new page.
Hide n Seek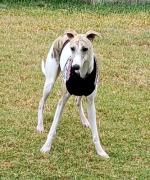 Why does my whippet want me to find his bone? He hides milk bones all over the place and sometimes he finds it immediately and hides it again and again.
Subscribe to my Free Newsletter!
With the free e-zine you'll get a house training flash course plus a handy infographic.
And your e-mail address is always safe with us, don't worry!
Jul 08, 20 11:09 AM

Why does my whippet want me to find his bone? He hides milk bones all over the place and sometimes he finds it immediately and hides it again and again.

Jul 08, 20 11:05 AM

My wife and I are really struggling finding 'the right' smallish rescue dog and what we don't want to do is buy from a breeder. Has to be a bitch and everyone

May 10, 20 01:08 PM

Charming playful (neutered) male whippet aged 5 looking for a whippet pal. I take plenty of rest between showing off in the park. Text me on 0868114974,