Do you have a whippety question? Enter here your query or keyword.
Get the Best Whippet Collars for Your Pet
Whippet collars sizing can be tricky. Find the perfect size, style and accessories for your hound collar.
Leather Whippet Collars


The typical leather hound collars enhance the elegant whippet neck but they also have a practical purpose.
The classic whippet collars are wide for a double purpose: they are gentle on the elongated and delicate neck of the sighthounds and they offer some degree of protection.
In the heat of the hunt (or in the excitement of the dog park) our hounds tend to pull on their leashes and a wide collar is more comfortable and gentler than a thin one, especially if it is lined with a soft padding.
The wide hound collars can be seen in many ancient hunting painting and were developed also to offer some kind of protection to the neck in case of a fight or a wild encounter. The leather greyhound dog collars were especially useful for the short coated dog breeds that cannot count on the protection of abundant fur like other hunting breeds.

On top of all these practical reasons there is also the fact that wide hound collars look gorgeous on the exquisite whippet and greyhound necks.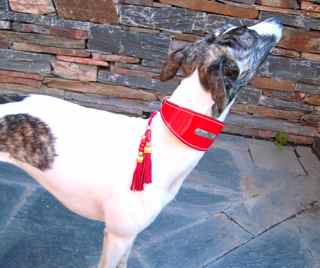 Finding the Right Size


Whippets and greyhounds have conic necks and heads that easily slip out of regular collars and it can be tricky to find the exact collar size to fit your hound.
The general rule for most dogs is to get a collar of a size that allows room for a couple of fingers but in the sighthounds' case this rule might be wrong especially if you measure the size of the neck at its base, where it meets the shoulders and it is wider.
Two complicate the matter, hounds collars are wider in the center, a shape that requires a better fitting than a regular, narrow collar.
In the picture below you can see outlined in red the area where to measure the size of your hound's neck.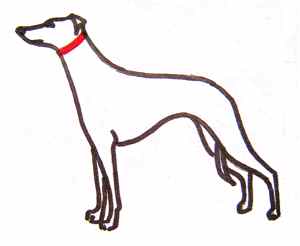 To fit properly a buckle whippet collar, measure your hound around the neck, just behind his ears.
This kind of hound dog collars tend to be expensive but a good quality one will last for years and will be a wise investment once your puppy stops the chewing phase and graduates from the cheaper puppy collars.

Here is the method to take the correct size of your sighthound's neck.
Most dogs do not care for measuring sessions so, after your hound has been exercised and fed and is in his best mood and most relaxed behavior, have your dog stand and with a soft measuring tape take the circumference of your hound's neck just behind the ears.
I prepared below a chart with the neck sizes and the corresponding length of the collar as a general guide to the length of greyhound and whippet collars.
The first two smaller sizes refer more to whippets and the two larger sizes are better suited to greyhounds and Spanish galgos.



Neck size 10"-12" (25-30 cm) will need a 14"-15" (35-38 cm) collar
Neck size 11"-13" (28-33 cm) will need a 16"-17" (41-43 cm) collar
Neck size 13"-15" (33-38 cm) will need a 17"-18" (43-46 cm) collar
Neck size 15"-16" (38-41 cm) will need a 19"-20" (48-50 cm) collar
Do not allow for extra length because the sighthound's head tends to slip out of the collar and anyway the leather tends to stretch with use and in time the collar will get wider.
Find out here how to make your own leather whippet collar at home!
Martingale Dog Collars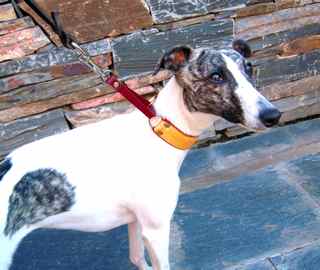 The other kind of collars that are often used are the whippet and greyhound martingale collars.

These are the best dog collars for walks because they can be slipped on easily but if the dog pulls, the martingale collar tightens behind the hound's conic head and won't slip off in case you pet pulls back.
Martingale dog collars are often made with washable, fun and colorful fabrics.

Learn here how to make dog collars of this style in few easy steps. You'll be able to make collars for any occasion using different materials and patterns.


Rolled Leather Dog Collars


Greyhound martingale collars are generally taken off when the hound is left free to run.
If you feel uncomfortable about letting your dog run free without a dog name tag, you can use a rolled leather dog collar just to hold the pet id tag. 
Dog Name Tag
A dog id tag is always a good idea. Even if your dog is microchipped, a pet id tag with your cell phone number will help locate you quickly if your dog gets lost.
Collar Tassel
To catch the collar ring easily or just because they look so pretty, sometimes tassels are attached to hound dog collars.