Do you have a whippety question? Enter here your query or keyword.
Whippet Puppies for Sale

Where and How to Find the Perfect Pup 
Looking for whippet puppies for sale? Tips to find and choose the puppy of your dreams.
Finding the perfect puppy may require some time, give yourself the luxury of an extensive research until you find exactly what you are looking for.
Putting effort in a careful investigation is a wise move that will later save you regrets, heartaches and ultimately might spare you a huge waste of money and energy.
A sick or unfit puppy can not only be a source of misery but also a considerable financial strain.
We do not breed our dogs and we do not have whippet puppies  for sale.
Dog breeding requires appropriate facilities, a suitable lifestyle, financial resources and an immense dedication.
Unfortunately we are a traveling family, we move often and we cannot provide a reasonable environment for whippet breeding.
With our life style I can at most manage two dogs at the time, let alone a litter of puppies.
A good breeder must be able to provide for the unsold or returned puppies, which potentially makes a lot of dogs especially considering that whippet are prolific dogs and litters can easily amount to eleven puppies.
So, to my regret, breeding is out of the question for us, at least at the moment.


Where to Look for Whippet Puppies for Sale


Local Shows and Events
If you start looking locally, you won't have to travel far with a young dog (not always a relaxing experience) and you can always refer to the breeder for advice and tips.
The first place where to start looking for whippet puppies for sale is at local dog shows and events.
Here you have a chance to speak with breeders, ask questions and make the first enquires about available puppies.
You will also be able to see dogs coming from different blood lines and make up your mind about what kind of dog you are looking for: what conformation, which sex, color and and attitudes will suit you better.
If in your area there are racing and coursing meetings, don't miss your chance to attend. 
If you have never seen a whippet compete in one of those events, you might be surprised how intense these little hounds became when they are doing what they were bred for.
Ads on Local Papers and Internet
You may be able to find whippet puppies for sale this way but do not omit under any circumstances to visit to the breeder. 
Make sure you are dealing with a reputable breeder, who has a vast experience with whippets and has been extensively involved in shows and events.
You must be able to see the facilities, meet the puppies, meet at least the mother (if not also the father) of the pups and discuss your every concern about the puppies.
For your convenience we created a FB page with posting of new litters of whippet puppies.
Scroll down to see more postings. We update it often, so if you don't see what you are looking for, keep visiting!
Contact the Local Whippet Club
They should be able to give you information and references about whippet breeders and possibly new born litters or available whippet puppies for sale in your area.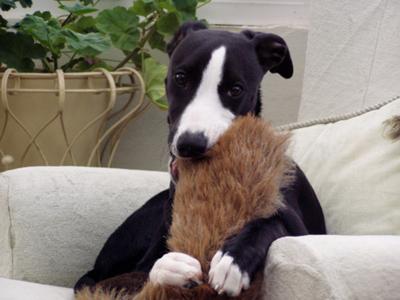 Where Not to Look for Whippet Puppies for Sale

Do not buy from shops.You won't be able to see the breeder and find out about the background of the puppy. And probably the pups will be overpriced.
Do not buy from anyone who will ship or drop the puppy at your home without giving you a chance to visit the facilities and see the pup's parents.
Do not buy from puppy farms. Puppy farms mass produce puppies of many different breeds with little or no regard for the welfare of the animals. Dogs are complex, living creatures and cannot be mass produced.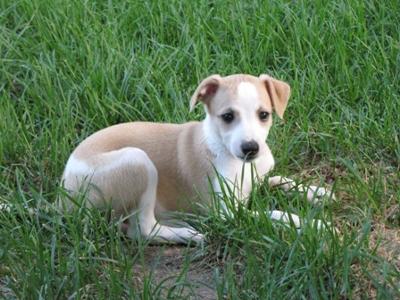 How to Choose a Whippet Puppy
The first step is to ask yourself what you expect from your whippet pup. Is your new pup going to be a pet, a show prospect or a racing dog? 
Be honest with the breeder and yourself, say openly what are your hopes for the puppy. Different qualities are required for the pet dog, the racing whippet and the show prospect.
Probably you'll be able to have a look at the whippet puppies for sale at six weeks but they won't be able to leave to their new homes before eight weeks of age.
Regardless to their future jobs all puppies must look well rounded with no bones showing. 
They will be happy and playful and not unduly shy.
They will be fully weaned and on a regular feeding schedule.
The top line of a whippet puppy will look somewhat longer and flatter than that of an adult.
Their coat will be soft and their skin loose and supple.
Pet Puppy
If your whippet is expected to fit into the difficult job of being a pet, an even and easygoing temperament is the most important requirement.
Spend some time with the puppies, speak to the breeder about their temperament and in choosing the pup, just follow your heart or, even better, let the puppy choose you. 


Show Whippet Puppies
If you have decided that your whippet must be a show champion, you better be prepared to wait for a promising litter of puppies.
Meantime, attend the local shows, get to know the breeders and their dogs. Study the breed standard and decide which line of dogs you like the best and has more potential.
It's extremely difficult to assess a pup potential at eight weeks of age. 
Your best bet is to start with with the best stock available and trust the breeder's judgment. At the end of the day if your puppy doesn't turn out to be the champion you hoped at least it will be a well bred whippet.
A male dog must have two normal fully descended testicles.
Look for a long back and neck, strong bone, well arched feet and an outgoing temperament...or just pick the one you like and hope for the best!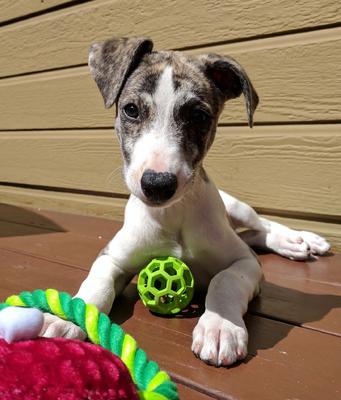 Racing Dog
Choosing a racing whippet is somewhat easier.
Look for racing whippet kennels, starting from a running line of dogs will give you a better guarantee about the puppy attitudes.
Look for courage, determination and a good conformation.
Keep in mind that there is a height limit for racing whippets that must not be exceeded. Click here to check the whippet standard in your country.


Male or Female?
To make your choice easier, decide right at the beginning if the whippet puppy  you are looking for is going to be a male or a female.
Unlike other breeds, males are just as lovable as females. They both make wonderful pets and are both easy to train. Males are not more aggressive than females.
Whippet girls are smaller, their look is more refined and graceful than boys. Males are taller, more muscular and tend to like better repetitive games.
Female temperament tends to be more feline in nature. Girls can be strong-willed.
Consider that most unaltered females will come into season every six months and this restricts their participation to events. If you plan to participate to all the events in your area, a male might be a better choice.
Color
Whippets come in any color and color combination so here you have an ample choice. Just don't be tempted to have one of each color because they would be far too many.
As stated in the standard the whippet color is immaterial so the coat shade of your future whippet is only matter of personal preference.
Most top breeders don't breed with a specific coat color in mind, it is difficult enough to breed whippets of outstanding conformation and temperament. Basically a good whippet cannot be of a bad color.


Is a Whippet your Perfect Match?
Find out with this quick test if you can be a good dog owner and if the whippet is the right breed for your lifestyle.
Whippet Puppies for Sale Near You
Check out this page to find a whippet puppies for sale near you.
What do whippet puppies look like? Enjoy these puppy videos.
Tips for the first days at home with your new puppy.

Are Whippet Puppies Hard Work?
Find out how to reliably and quickly house train your puppy

Read about our first months with Lola, our new whippet pup. Ideas and tips about puppy training games.
Cerchi un cucciolo in Italia? Sei un allevatore italiano? Clicca sul titolo per aprire una pagina dedicata all'allevamento in Italia.