Do you have a whippety question? Enter here your query or keyword.
Italian Greyhound Rescue and Adoption
Before contacting an Italian Greyhound rescue and adoption center, find out with this quick dog breed test if the Italian Greyhound dog is your right match.

Are Italian Greyhound for you?
As you can see in these Italian greyhound pictures, the Italian greyhound looks like the cutest miniature greyhound you can think about but these petite sighthounds are not for everyone.
Before you rush to a breeder or Italian greyhound rescue organization, find out if this lovely breed is your right match.

The Italian greyhound is NOT the dog for you if:

-You have little time to dedicate to your dog.
The grooming is minimal, IG have hardly any odor and very little shedding but they require daily teeth brushing, frequent nail trimming and need attention and physical contact from their people.
-You want an outdoor dog that can live in the yard.
Italian greyhounds are well known for being indoor dogs, they positively hate bad, cold weather and would happily avoid wetting their feet in the rain or wet grass.
Many iggy owners give their dogs sheltered outside spaces as toilets or litter box/paper train their iggies.
-You hate dog coats.
A winter dog coat for your iggy is a necessity in cold weather.
-You expect instant and unerring obedience from your pet.
Italian greyhounds are real sighthounds, they can be independent thinkers and although some excel in obedience and dog agility, their compliance is not a given.
-You have unruly children and/or large and active dogs.
Iggies are stronger then what they look but still are prone to leg bone fractures and definitely do not appreciate rough handling and play from children or large dogs.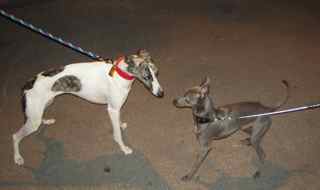 The Italian Greyhound is the breed for you if:
-You have a quiet household and time to spend with your dog for nail grinding, teeth cleaning, toilet training, walking on leash, playing and interacting with your pet.
-You don't believe in harsh punishment
Often a verbal reprimand will be enough. Any physical punishment can be too intimidating for these sensitive dogs.
-You believe in crate training to avoid accidents and toilet train effectively your IG.
-You don't mind your dog on furniture
It is almost impossible to keep such a keen comfort seeker off the couch.
-You believe in leashes and fences
IG are fast and have the typical prey drive of a larger sighthound. For their safety they must be kept on leash.
-You would like your dog to compete in coursing or agility.
Italian greyhounds are build for speed and coursing is their favorite game. Some IGs also excel in dog agility.
-You like people oriented dogs that crave attention and physical contact.
-You like a small alarm dog that can bark but is not yappy.
Why are Italian Greyhounds Given for Adoption?
Iggies might be given up for adoption because their owners are no longer able to care for their dogs or, as it sometimes happens, for unsuccessful toilet training.
Certainly one of the causes of these failures in training is the Italian Greyhound intolerance for the cold and wet weather.
Watch this fun video below to see what an Italian greyhound is prepared to do to keep his feet dry.

Advantages of Adopting an IG
Italian greyhounds that comes from dog rescue organizations are up to date with their vaccinations, are spayed or neutered, often have received a basic training in their foster home and have been assessed for temperament so they can be successfully matched to their future owners.
What to Expect from Dog Adoption Centers
Serious dog rescue organizations will arrange a home visit to interview you and make sure that your house can be a forever home for your new pet.
Better contact a local dog rescue organization to make visiting and follow up support easy. Generally pets are not shipped but must be collected personally.
You'll be asked to pay an adoption fee to cover the expenses.


Italian Greyhound Rescue Organizations
If you think an Italian Greyhound can fit with your life style, here are some specialized dog adoption centers you may contact to find your dream pet.
Italian Greyhound Club of America Rescue
Midwest Italian Greyhound Rescue
Click on the link to see the Italian greyhounds for adoption in the Midwest.


California Italian Greyhound Rescue
Looking for an IG in California? Click on the title to find out about these dog rescue centers


Contacts for Italian greyhound adoptions in UK. Click on the link for e-mail addresses.


Dog adoption center dedicated to rehoming and rescuing Italian Greyhounds and crosses in need.

More about Italian Greyhounds
Find out about the iggies dog breed characteristics and needs.
Enjoy here some lovely Italian greyhound pictures.
How to find a reliable Italian greyhound breeder.
Looking for an Italian greyhound name? Enjoy this list of my favorite Italian dog names.

Best deals on iggies' collars and coats, the essential outfits for your little hound.

Interested in Italian dog breeds? Click on the link to find out more about the fourteen recognized Italian dog breeds.
What is the difference between an Italian greyhound, a whippet and a greyhound?