Looking for a forever home.
by Marion
(Scotland )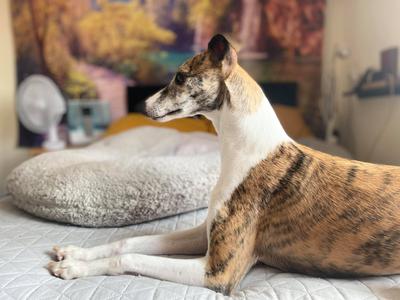 I have recently taken on a young Whippet bitch from a lady with a lot of dogs!

She was causing a noise nuisance due to separation anxiety.

I had not intentions of getting another dog at this time but I felt it would prevent her perhaps tumbling down the rehoming ladder and the lady needed her removed from the property quickly.

She is three years old. She has a damaged back paw (toe missing, hops and holds it up when she is running) from a very young age and apparently was never registered because of this injury.

She has had one litter at the end of last year.

I do not know much else about her. Except, oh my gosh, she is so sweet and loving.

She is a Tiger Brindle with lovely markings and an adorable personality. I have two small dogs and a visiting GSD. She has very good manners with other dogs, lived with a Guinea pig and has just met with my cats with no issues. She could not be more pleasant.

She is house trained and obedient. Although I have no tried her off the leash yet.

We are looking for the best home possible and I wonder if someone that has more time for her would be appropriate.