Do you have a whippety question? Enter here your query or keyword.
Vendo Whippet
La Pagina per chi ha o Cerca una Cucciolata
Nella pagina Vendo Whippet potete creare una pagina per presentare il vostro allevamento di whippet a migliaia di visitatori, del tutto gratuitamente.
Spesso i nostri visitarori cercano consigli su dove trovare cuccioli whippet in Italia.
Questa razza non e' apparsa in film e non e' (ancora) stata protagonista di libri famosi o pubblicita'.
Malgrado ciò, i whippet hanno un carattere divertente e simpatico, clicca qui per aprire una pagina dedicata al carattere dei whippet.
Qualcuno ha detto che il whippet e' il segreto meglio costudito del mondo canino perche' ha molto da offrire ma ancora non e' stato scoperto dal grande pubblico.
Questo puo' sembrare uno svantaggio quando si comincia a cercare una cucciolata perche' puo' richierere tempo trovare il whippet perfetto.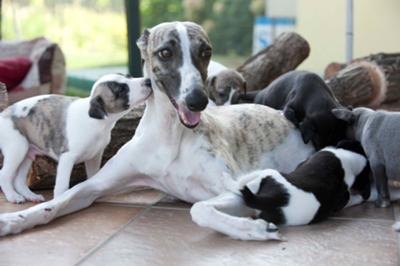 Foto di Alessandra Riva
Però questa situazione offre un grande vantaggio: gli allevatori di whippet non si concentrano sulla quantita' ma sulla qualita' dei loro cani.
Gli allevatori di whippet, col modulo qua sotto, potranno facilmente creare una pagina web in italiano e far conoscere i propri cani a migliaia di visitatori, del tutto gratuitamente, offrendo cosi' un servizio a tutti gli appassionati di questa razza!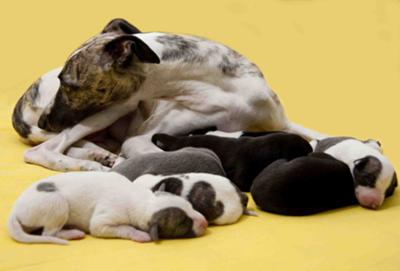 Foto di Alessandra Riva
Inserite cosi' le vostre informazioni:
Scrivi il Nome del Tuo Allevamento - Nome dell'Allevamento

Parlaci dei Tuoi Whippet - Inserisci informazioni sui tuoi cani (sesso,colore, attitudini), la cucciolata (data di nascita, genitori), il tuo  allevamento (obbiettivi del vostro programma, caratteristiche dei cani) ed infine indicazioni su come contattarvi.
Aggiungi da 1 a 4 fotografie (opzionale) - Carica una foto dal tuo  computer.
Author information - Il tuo nome e area di residenza.
Submit your contribution - Invia la tua pagina.
Check box to agree to these submission guidelines - Clicca qui per aderire alle linee guida.
Submit your Contribution - Invia la tua pagina.
Fatto! Hai creato la tua pagina web sul tuo allevamento!
Piu' informazioni inserisci sui tuoi cani, maggiore sara' l'interesse del pubblico per il tuo allevamento.
Dopo aver inviato la tua pagina, riceverai un e-mail di conferma e l'indirizzo quando la tua pagina verra' pubblicata.
Allevi Whippet?
Allevi whippet, hai una cucciolata? Spargi la voce gratuitamente!
Altri Allevamenti di Whippet in Italia
Clicca qui per vedere altri allevamenti italiani...


Vendo Whippet: Allevamento Vesperus

Siamo italiani ma viviamo in Slovenia. Il nostro allevamento di whippet e' vicino al confine italiano. Ecco i nostri whippet: Multi ch. Beau Ranger …
Allevamento Kollaps Not rated yet
Il nostro allevamento è dedicato alla selezione di whippet e greyhound da esposizione e compagnia. Alleviamo ricercando le migliori linee italiane ed …
Clicca qui per scoprire il carattere del whippet