Do you have a whippety question? Enter here your query or keyword.
Puppy Crate Training Tips
7 Puppy Crate Training Tips
Follow these 7 puppy crate training tips to obtain a well ajusted and house trained dog in no time.

House breaking Lola was really no brainer. I already made my training mistakes with other puppies and this time potty training a puppy was a breeze.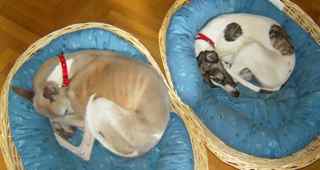 To take the new puppy home, I asked my husband's help. He was driving while Lola was dutifully vomiting on me in the back seat.

The other animals of the house were already secured in a separate room so I could perform undisturbed my first puppy trainer act: take Lola to the designated area and let her relive herself.
After she successfully performed, we took the dogs to a neutral area outside our garden for the formal introductions.
After a light dinner we were all exhausted and ready to go to bed.
Lola went into her crate with panoramic view of mine and Zippo's (my aging whippet) beds. To the satisfaction and delight of the whole family Lola slept quietly all night.
The crate is her safe heaven where she sleeps and rests when I can't supervise her.
Every two hours or after a nap or playtime I take Lola to her designated spot where she has already learned to promptly perform in order to get back to the comfort of the house.
So far mistakes have been few and actually all mine for not allowing her outside at the proper time.
So here are my puppy training tips for new puppy owners:
1 Get organised before taking your puppy home.
When you arrive with the pup, it will be too late for planning.


2 Have a designated toilet area.
Be coherent with your pup from the start.


3 Start puppy potty training the moment you get home.
There's no better moment to start.
4 Start puppy crate training the first night.
Set the rules of the house from the beginning.
5 Take your puppy to the designated area at regular intervals.
Give your puppy a chance to do the right thing.
6 Prevent, don't reprimand.
Punishment is useless and confusing for the puppy.
7 Be patient and consistent.