Do you have a whippety question? Enter here your query or keyword.
3 Best Puppy Training Games

3 Most useful puppy training games to civilise unmanageable puppies.
First of all let me introduce Lola, she is our new whippet puppy, she comes from a distinguished Spanish family.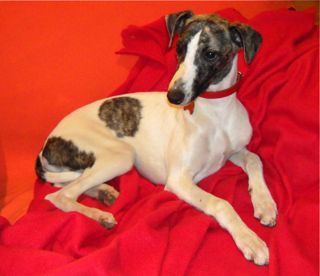 Her unexpected arrival (it was love at first sight), caused a bit of chaos in our busy household and we spent the first couple of weeks puppy proofing the house and creating a reasonable routine that suited our older dog, us and the new whippet puppy.
This is the story of our first months with Lola and our brave attempts to shape a civilized family member out of the wild creature we fell in love with.
I am sure you'll find in our trial and errors lots of free puppy training tips and ideas about how to train a puppy.

1 The Recall as a Puppy Training Game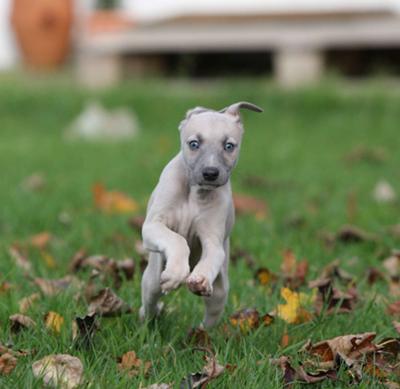 Have a helper restrain your puppy while you hide (not too far at the beginning) than call the dog with your most alluring voice.

When the puppy finds you, reward him alternating food, cuddles and favorite toys to keep the game interesting.
Always stop the game before your puppy gets too tired to leave him eager for more.
Gradually increase the distance and the difficulty of your hiding spots.


2 Training a Puppy Not to Bite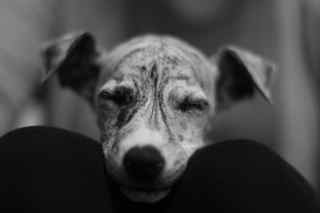 Training a puppy not to bite and chew will preserve your fingers, furniture and sanity.
Young Lola is biting everything: carpets, remote controls, shoes and of course, my fingers.
OK, is a puppy way to know the world but those little needle teeth can be so painful!
The best way to stop her is to let her know clear and loud that it hurts: I yelp!

3 Leave it!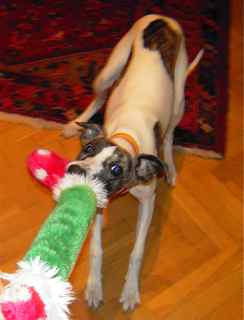 The Problem
When Lola is off leash she still picks up rubbish and refuses to let go. I would like to teach her to let go on command.
The Solution
With this puppy training game, the tug of war, she'll learn (hopefully) to leave things when I ask her to and I'll curb her annoying chewing habits.
She'll be rewarded as long as she plays by my rules.
She will have to be in a sit or down position before starting the game and let go of the toy when I ask her to.

It is definitely not the right puppy training game for and aggressive or dominant dog but Lola is certainly not aggressive so I think she is the perfect candidate for this training game.
The Outcome
We have being playing the tug game for few days now. We like to play in the evening, when Lola seems to be restless.
At this time of the day she becomes playful and unless I channel her energy into something constructive, she goes into hyperactive mode and may get destructive chewing on furniture and whatever she finds interesting, including our fingers.
To protect the furniture and my most treasured possessions during these activity spells, we play tug of war and then, just like any worn out child, she goes to her bed for a well deserved nap.
Today, during our daily walk I finally savoured the sweet fruit of puppy training games success. I asked Lola to drop a piece of garbage she had just picked up and, surprise... she obeyed!
Do You Play Train Your Pup?
Do you have a favorite puppy training game?

Share your puppy training tips, adventures, success, failures and even disasters. You are not alone!


What Other Visitors Have Said
Click below to see contributions from other visitors to this page...

Boxin' pups Not rated yet
I am telling of how a bad behavior turned into a trick. It all started when I saw a sign for a trick show, and thought it would be fun to do something. …
Walking with a wild bronco on a leash is neither easy nor relaxing. Find out how to leash train a puppy.
House training a puppy is really easy with these simple instructions.

Hiking with dogs is the best way to bond with your pet and practice puppy training games. Planning to go hiking with your dog? Find a dog friendly hotel anywhere in the world.


Training your Whippet Puppy for Shows
Find out how to train a puppy for a dog show. Puppy training tips and free dog training videos to get ready for your first dog show.


This whippet training technique will be of great help if your dog, despite all your nutritional efforts, turns out to be a great garbage hound.