Do you have a whippety question? Enter here your query or keyword.
Italian Greyhound Pictures

Italian Greyhound Pictures
Iggy Photos and Watercolors


Looking for Italian greyhound pictures? Enjoy Iggy photos, watercolors and share your own pictures. 

Check out here the Italian greyhound pictures sent by visitors and share your own photos
What do these miniature greyhound look like? Find out in our collection of Italian greyhound photos. We hope you enjoy looking at these Italian greyhound pics as much as we enjoyed them.
Italian greyhounds are lovely little dogs that do not enjoy the popularity they deserve.
During the Renaissance and in ancient Rome and Greece, iggies were favorite pets of the wealthy families for the very good reason that they are beautiful and easy care little dogs.
Iggies are easy to keep clean and don't require complicated grooming procedures but need a warm coat in the winter and the company of a loving guardian.
Browse trough these pictures of iggies and you'll understand why they have been prized pets for centuries, they will steal your heart too!
I couldn't help myself from painting a watercolor of a friend's Italian greyhound. Isn't she a cutie?

She looks so elegant and fragile but she is actually very athletic and she has a lot of character. She'll take no nonsense from my whippet!
This miniature greyhound originates from ancient Egypt and from there the breed became popular and spread all over the Mediterranean countries.
The Italian greyhound was beloved in ancient Rome by the patrician and became the pampered pet of the wealthy aristocracy.
We admired numerous Italian greyhound pictures and marble statues in the Vatican Museums in the wonderful section dedicated to animal statues that testify the popularity of this miniature greyhound in ancient Rome.
Nevertheless the Italian greyhound is to this day a determined and fast hunter of rabbits and hares as well as a dignified pet.


Italian Greyhounds and Whippets
We are often asked what's the difference between whippets and Italian Greyhounds.
Italian greyhounds are smaller and finer looking than whippets. Compare in these pictures the size of whippets with that of iggies.
Confused about the difference between Italian greyhounds, whippets and greyhounds?
To find out more about their size and traits, visit this page and and this one: Italian greyhound vs whippets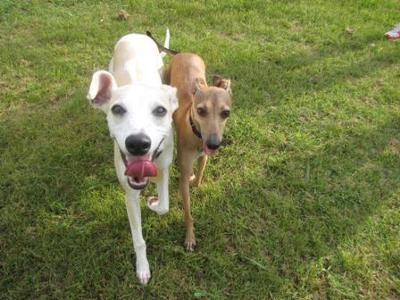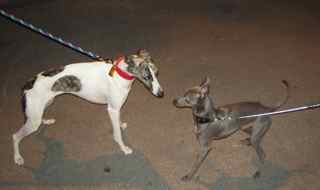 Share your Italian Greyhound Pictures!


Are you owned by an Iggy?
Share your Italian greyhound photos with the world, your piccolo deserves it!
Enter your picture in the simple form below, add a few words about your pet and let thousands of dog lovers enjoy your pictures.

Have Great Italian Greyhound Pictures?
Do you have great Italian greyhound photos? Share them!
Pictures from Other Visitors
Click below to see contributions from other visitors to this page...