Do you have a whippety question? Enter here your query or keyword.
Italian Greyhound Vs Whippet
Italian Greyhound vs Whippet
Italian Greyhound vs Whippet - Compare these to dog breeds to find your perfect match.

The question if the whippet is a miniature greyhound is still controversial.
Some respected authors and whippet experts believe that the greyhound, the whippet and the Italian Greyhound come from the same genetic pool.
The type of the three breeds is in fact very similar and what mainly sets them apart is the size.
Other influential authors believe that in the breeding of the whippet was essential terrier and/or spaniel blood to increase speed and gameness.
Probably the question will never be settled to a satisfactory conclusion.
The only certain fact is that a small hound, fast and elegant, of short coat and rose shaped ears, has been around for centuries.
Documents also testify that the workers of North of England at the end of 1800, crossed small hounds with terriers and used the resulting "snap dog" or whippet in races and rabbit coursing.
It seems almost incredible that the balanced and beautiful whippet that we know today comes from the selection of the rough snap dog of such humble origins.
Both these small hounds look like a "miniature Greyhound"and are built for speed.
They both sport a slender, elegant look and a short silky coat but they are two different breeds with distinct characteristics. 
The Italian greyhound is a very old breed, favorite of the nobility since ancient times as a prized pet.
The whippet is a more modern breed, selected by the miners of North England for racing.
The size, colors, temperament and movement differentiate the Italian  greyhound and the whippet.
You can't decide which breed to pick? Compare Italian greyhound vs whippet at a glance to decide which one is your perfect pet.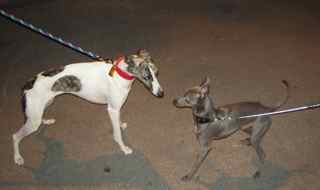 Italian Greyhound vs Whippet



| | | |
| --- | --- | --- |
| | Italian Greyhound | Whippet |
| Size | Small | Medium |
| Height | 32-38cms (12½-15 ins) at withers | 17-20in (44-51cm) |
| Weight   | Ideal Weight 3.6-4.5 kgs (8-10 lbs). | 20-26lbs (9-13kg) |
| Appearance | Very similar to the Greyhound, but much smaller and slender, graceful and elegant  | Combines muscular power and strength with elegance and grace  |
| Color | Any color except brindle or tan markings | Immaterial, any color or mixture of colors |
| Movement | High-stepping and free action | Low, smooth, free moving, never high stepping or stilted |
| Common Health Problems | Broken bones, epilepsy, dental problems  | None |
| Energy | High | Moderate |
| Temperament | Smart, affectionate and lively. May appear aloof with strangers.  | Gentle, devoted, level minded. |
| Not For | Disruptive children, outdoor life | Kennel life |
| Best With | Adult, gentle owners | Loving owners |
Here is a picture of the two dog breeds where you can compare the size of an Italian greyhound vs whippet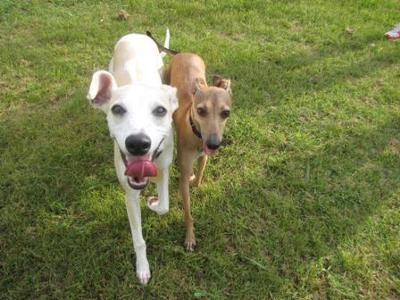 Need more info about Italian Greyhounds? Find out more here!