Do you have a whippety question? Enter here your query or keyword.
The Chi-Whippet from the Desert and Her Bonus Puppy
Chi-Whippet Mix: How Henry Found His Home
by Fran Self
(Caldwell, Idaho, USA)
I was driving home from work one evening, through the farm country of southwest Idaho near Lake Lowell, when I spied a little dog wandering back and forth across the blacktop.

I stopped, since I am an inveterate animal rescuer, and found a small, obviously famished, bony little tan-colored dog who looked like a miniature greyhound, with erect ears.

He was very weak and very hungry and thirsty. The next day, I took all the usual steps in an attempt to locate his owner: notify the animal shelter, put up posters, placed an ad in the "lost & found" section of the local papers, and took him to the vet to be scanned for a microchip.

No one came forward to claim him. He had not been neutered, was not house-trained, and was nearly dead from starvation.

I already had three rescued dogs, but something about this little guy was so elegant and unusual that my heart was drawn to him. When he got stronger and recovered from the weeks of neglect, I took him for an outing by the river and soccer fields near my home.

Then, for the first time, I saw him run. WOW! I had never seen a dog run like that, ever, in all my 50 years of dog admiration and ownership, outside a greyhound track! He was poetry in motion! He ran like a gazelle, and from his whole attitude you could see the sheer joy he took in running.

This piqued my curiosity. I don't have a lot of extra money to spend on frivolous stuff, but I was determined to find out what kind of dog this little guy was, so I paid the $60 for genetic testing, and guess what? Henry is half chihuahua and half whippet!

Many people in the area have chihuahuas and chihuahua crosses, but I know of no one in the immediate area who owns whippets, so I am puzzled as to where he originated. But I know he is a true little gentleman!

He was house-trained within a month, and now goes along splendidly on a leash. He has settled himself right into our household, and is the dearest, gentlest little dog you could imagine. But our real thrill in knowing him comes each time we take him somewhere he can stretch out and RUN!

He loves to snuggle under a blanket, and he plays like a cat with the cat toys. We love him!

Does anyone else out there have a chi-whippet cross?


Click here to read or post comments
Join in and write your own page! It's easy to do. How? Simply click here to return to Whippet Mix Pictures.
Chihuahua-Whippet Mix
by Susan
(United States)
My dog of 13 yrs. just passed away.

We really never new what mix breed he was. We were sure he had chihuahua in him. The vet thought he was mixed with rat terrier.

I have been researching dogs lately and I was so excited when I saw a chi-whippet. It looks JUST
LIKE MY DOG!

We know now what it was. Best dog we have ever had. We can't find any for sale or any breeder.

Can someone please help us find this wonderful breed mix?


Click here to read or post comments
Join in and write your own page! It's easy to do. How? Simply click here to return to Whippet Mix Pictures.
Whippet Mix: Our Dog "Happy"
by Kelly
(Philadelphia, PA)
My mom passed away Oct. 3, 2007.
I was and still am completely devastated.
3 days after burying my mom, I adopted from the Women's Humane Society in Bensalem, PA our Happy. They said she was a chihuahua, but after she reached 22lbs, we (my fiancee and I) kind of decided that she probably is not a chihuahua!
We also have an 11 year old rescue dog, named Q who we rescued at 6 months and now she is 11 years old. She is a cocker/beagle with the tongue of a chow.
And lastly we can't forget our cat Emma!
Anyway, Happy is pretty aggressive, I adopted her at 11 weeks and she'll be 2 years old in a few days and we are still having house training issues.
We'd love to hear your opinion as to if you think Happy is an Italian Greyhound/Whippet mix.
Give us your best guess, we are always trying to figure out what she is!
Click here to read or post comments
Join in and write your own page! It's easy to do. How? Simply click here to return to Whippet Mix Pictures.
Angel Baby
by Bernadette Miner
(Mccook, Nebraska )
Our angel baby was adopted from the humane society here where we live in Nebraska.

She was in the humane society for a few weeks, still a young puppy, after being found wandering the streets.

She is the greatest addition to our family of poodles and children. They all hit it off right away.

The way we come about getting her though was a sad one.

Our 6 month old chihuahua pup was ran over very rudely and without any compassion from the driver coming back to check on her.

Anyway she was our angel and so we just had a gut feeling that another abandoned animal needed a new home so we went to the humane society and what do you know, our angel baby was there waiting.

Others saw her and said she was too high strung for them. Not for us though, she fits in perfectly with our family.

She likes to play with our other poodles Captain and Poo and stay up late playing.

She loves to run in the back yard as fast as she can and rides... LOVES THEM!!!!!

She likes to jump and pounce on you to wake you up or tell you she is ready to play.

She also is a little Houdini sneaking out of the house when your are not looking or when you are walking out the door to go somewhere.

She likes to sleep on fuzzy blankets, lay by the heat of my husband's oxygen concentrator where the heat comes out or under the covers when it is cold or she is cold.

I have notices she is sent from heaven though, she has 100 percent the characteristics of our other pup, angel rose, killed by a speeding driver not watching what she was doing.

The angels from above were with us that day letting us know that Angel Rose was needed upstairs so that Angel Baby could come to us and have a loving compassionate fun home for the rest of her life, no more humane society for her.

I wish i lived on a farm so I could rescue animals from abuse and I could show them that there are people who will love them and not hurt them or abandon them.

Angel Baby is our angel sent from above and I am glad we got her, we all love her so much.
Click here to read or post comments
Join in and write your own page! It's easy to do. How? Simply click here to return to Whippet Mix Pictures.
Miss Daisy: a Chi Whippet Mix
by Jess K.
(St Louis, Mo)
My neighbors told me that their family were welcoming chiweenie puppies and wondered if we wanted one for a playmate for my Chi Bella.

I agreed, because my oldest dog was dying and I wanted a playmate for Bella.

The first month I saw a chiweenie and then her legs grew and grew and grew!

I looked at every Chihuahua mix and I finally found a picture of a chi whippet. She's crazy, silly, sweet and loves to run and play.

I love her more than anything and I'm glad I made the decision to bring her into our family!!
Join in and write your own page! It's easy to do. How? Simply click here to return to Whippet Mix Pictures.
The Chi-Whippet from the Desert and Her Bonus Puppy
by Lorraine Rock
(Ottawa, Canada)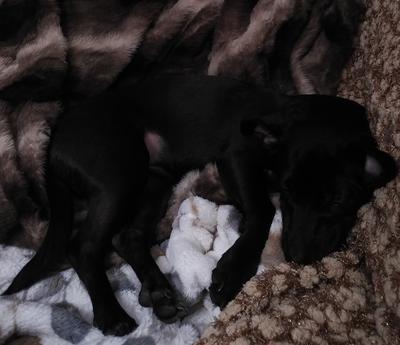 Cosmo at 6 months
In early 2019 my daughter,Ali, who lives in California, fostered a 13 year old, blind, diabetic dog. Chica and her mistress bonded quickly, and for the last 2 months of her life she was well-loved and constantly by her new "Mom's" side. Literally, worn in a body sling close to Ali's body, many people assumed she was carrying a new baby, but encountered an affectionate. sweet old dog when they investigated.
When Chica died Ali wanted to do something in her memory, so she volunteered to foster again. Charlotte was found in the desert, apparently abandoned, and heavily pregnant. Ali was told that she was a chihuahua and was expecting 3 puppies in about a week's time. She needed a safe and peaceful environment in which to give birth.
Ali had never assisted at any birth, but the foster agency offered no help, so she and Charlotte labored through the night of May 4th to fifth, and 3 puppies were born, the first very quickly, and the next 2 after an hour. It seemed that Charlotte had done this before, and she cleaned them up and started nursing. Ali went out for supplies, and when she came back counted the puppies, and there were 4! The largest puppy was born last, and he was almost one and a half times the size of the other three!
Unfortunately two of the pups did not survive, probably due to the stress of their mother's pregnancy, but Cosmo, the biggest pup, and his slightly smaller sibling, Georgie, are thriving.
At 4 months Cosmo was bigger than his Mom, and started to show definite whippet characteristics. At 5 months, when I adopted him, he looked like a mini greyhound, but has the disposition of a whippet, curious, affectionate and a real clown. Not to mention that he can run like the wind!
We plan to get his DNA tested, but after looking at pictures on you site I am convinced that this beautiful dog is mostly a Chi-whippet. What do other readers think?
Join in and write your own page! It's easy to do. How? Simply click here to return to Whippet Mix Pictures.