Do you have a whippety question? Enter here your query or keyword.
Junabeez Whippets - Australia
by Jo-Anne
(Junabee Queensland Australia)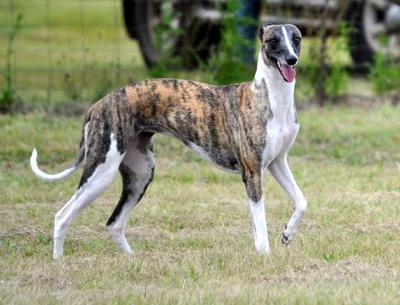 Morag
Whippets are a passion and hobby.

Currently three whippets share as valued family members, kept along with our Quarter Horse stud situated on Southern Downs Queensland Australia.

Having kept adored pet/rescue whippets for over 30 years, maintained livestock and worked in animal industries for a lifetime, now semi-retired, feel justified in breeding a first litter of whippets in 2013.

Expected soon, is first litter from Morag, our one female, albeit titled Australian Champion. (She is blooming, seems a shame to spoil her girlish figure though she remains fit and healthy. Does anything look as obvious as a pregnant whippet?)

Sire of the litter is promising young dog, Ziggy, chosen after careful consideration and advice from several expert long time whippeteers, as suitable mate for our girl.

Ziggy will continue to be shown as time permits and at just 13 months is well along.

Our oldest whippet boy Toby is very well bred but neutered as although beloved, charming and beautiful, he is not stud dog ideal.

Hoping to enjoy whippets for many years to come but have entrusted family to ensure best care, should events prove necessary.

Junabeez Whippets




Join in and write your own page! It's easy to do. How? Simply click here to return to Whippet Breeders.
Australia Whippet Breeder - Junabeez
by Jo-Anne Miller
(Junabee, Queensland, Australia)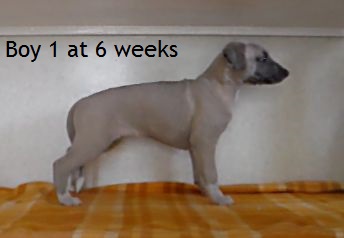 My home is in rural Australia.

I am a registered breeder with ANKC as Dogs Qld Member # 4100155538



I have owned whippets since 1980s but only began breeding quite recently, with first litter born in 2013, second in 2014, third litter born 21st April 2016.

Currently the litter of 6 baby pups is from a home bred Australian Champion dam CH Junabeez J Adore by Dior & by the sire NZ & AU CH Ronndal Night Fever at Benbridge (imp NZ)


Junabeez Whippets
Click here to read or post comments
Join in and write your own page! It's easy to do. How? Simply click here to return to Whippet Breeders.