Do you have a whippety question? Enter here your query or keyword.
Make Your Own Dog Collar
Martingale Collars

Make your own dog collar at home with these detailed instructions. Dog martingale collars are handy, beautiful and safe for your hound.
Martingale collars are easy to slip on and off but they tighten slightly around the hound's neck in case the dog pulls back. These collars are practical, good looking, safe and comfortable.
Cheap dog collars can be easily made at home with the materials of your choice. When you build your own dog collar, keep in mind that it will be as solid as its weakest part. Use only welded rings and strong materials.
Here is the dog collar hardware you'll need for a medium size dog like a whippet, adjust the measurement for bigger or smaller dogs.
2 D shaped rings measuring about 3.5 cm. (1.3 inches) at the straight part of the D.
1 round ring of 2.5 cm. (1 inch) of diameter.
1 strip of leather or suede 3.5 cm. (1.3 inches) wide and 25 cm. (10 inches) long. For the precise length, measure your dog just behind the ears and allow 4 cm. (1.5 inches) extra for the riveting.
1 strip of strong leather or nylon of 1.5 cm. (half an inch) wide and 28 cm. (11 inches) long.
5 rivets
25 cm of the prettiest ribbon you can find, a tad thinner than the 3.5 cm. leather strip.
Sewing tread and needle.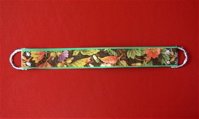 Sew the ribbon on the 2 cm. wide strip of suede. If you don't have a sewing machine, first punch small holes in the leather where the stitches will go, then using a saddle stitch attach the ribbon to the suede.
Double the ends of the strip of leather and attach the D rings with four rivets.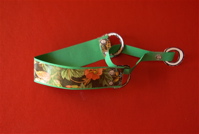 If you use a nylon strip, quickly pass the extremities on a lighted match. Thread the nylon strip through the D rings and the round ring as in the figure. Close with the last rivet.
Now slip the collar on your whippet and this is what your martingale collar will look like on your dog. Well done!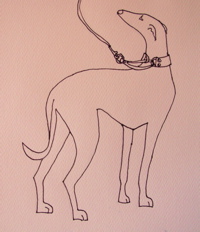 How to Make Your Own Dog Collar Martingale Style

Do you need more detailed instructions? Here is a great video to make a martingale collar with the fabric of your own choice. You can't go wrong. Have fun!