Do you have a whippety question? Enter here your query or keyword.
Whippet Carattere e Comportamento

Whippet carattere, comportamento e caratteristiche di una razza canina tutta da scoprire.

Ogni whippet ha un carattere unico come il suo mantello.

Cadauno di questi piccoli levrieri è un individuo, ha sue caratteristiche peculiari e una personalità che lo rendono unico. 
La selezione, però ha influito sui caratteri fisici e psicologici e alcuni tratti sono comuni in questa razza canina.
I whippet hanno una doppia personalità


Il cane che è diventato una decorazione permanente al vostro divano, improvvisamente può trasformarsi in un leviero determinato e coraggioso durante la caccia o il coursing.

La trasformazione può avvenire istantaneamente, come imparò a proprie spese un topo incauto che si era intrufolato in casa nostra.

Una notte, malgrado la selvaggia caccia al topo nella nostra cucina, il nostro whippet che aveva fama di essere il più accanito cacciatore, continuava a sonnecchiare, a dispetto della manifesta disapprovazione di tutta la famiglia.

Appena il topo gli passò a portata di zampa però in un batter d'occhio, il bell' addormentato lo raggiunse e lo uccise, ristabilendo la sua fama e lasciando tutti senza parole.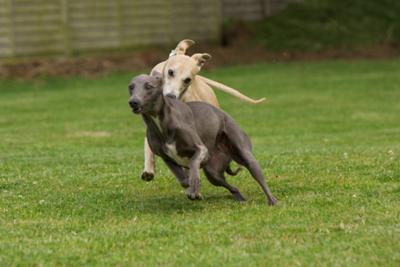 I whippet sono disposti a tutto pur di compiacere

Il tuo whippet è pronto ad accompagnarti, qualunque sia l'attività nella tua agenda.

Stai andando a fare una passeggiata? Fantastico, è pronto!

Vuoi rilassarti davanti alla TV, lavorare al computer o schiacciare un pisolino sul divano? Non è possibile trovare un compagno più tranquillo.

Devi andare in città per commissioni? Il tuo whippet verrà con te per negozi, attenderà pazientemente legato fuori o farà la guardia alla macchina.

Ristorante? Starà sotto il tavolo con pazienza e rassegnazione, soprattutto se fornirai    una coperta comoda.

Sei sportivo? Il tuo whippet sarà felice di correre con te ogni mattina, partecipare a gare di coursing, racing o dog agility.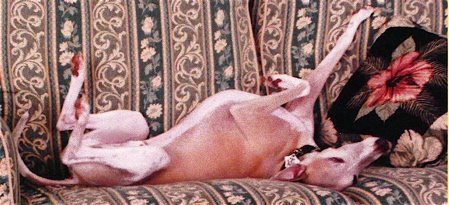 I whippet cercano la comodità

Forse per il pelo raso o per la loro mancanza di grasso corporeo, i whippet sanno individuare immediatamente il luogo più confortevole e caldo della casa (sempre che sia vicino ai suoi umani favoriti) e lì si piazzano senza disturbare.

Ho visto con i miei occhi uno dei miei whippet disprre i cuscini sul divano nel modo più comodo e appoggiarci sopra la testa soddisfatto.

Questi levrieri non hanno paura del freddo mentre corrono o giocano ma sarebbe certamente crudele e pericoloso lasciare un whippet fuori al freddo per lungo tempo.

Come regola generale, al tuo whippet sarà necessario il tuo stesso livello di comfort ... e forse un po 'di più.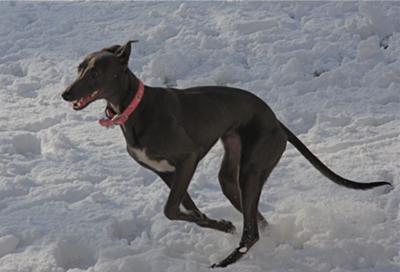 I whippet sono riservati con gli estranei

I levrieri sono spesso accusati ingiustamente di essere distaccati, freddi e indifferenti.

Un whippet generalmente avrà bisogno di un po' di tempo per familiarizzare con uno sconosciuto ma, una volta fatta conoscenza, sarà socievole e affettuoso.


I whippet sono ladri inveterati di cibo incustodito

Questo tratto della personalità del vostro whippet farà migliorare drasticamente le  virtù domestiche di tutta la famiglia, una volta che il contenuto del bidone della spazzatura sarà stato saccheggiato e la cena  misteriosamente scomparsa.


Ai whippet non piace stare soli

I whippet tendono ad annoiarsi o a diventare ansiosi quando vengono lasciati soli per un periodo di tempo prolungato.

Per evitare la ridecorazione periodica di casa,  date dei limiti al vostro cane, confinatelo in una zona sicura quando non siete in casa.

Eliminare cuscini e qualsiasi oggetto invitante ma distruttibile e fornite giocattoli per mantenere il vostro cane occupato.

Nel caso il vostro cane soffra di un'incurabile ansia da solitudine, un secondo whippet può essere di aiuto.


Il carattere del whippet si addocisce con l'età

La esuberante personalità del whippet si tranquillizza con l'età.

Non c'è un compagno più gradevole e discreto di un whippet maturo.



Subscribe to my Free Newsletter!
With the free e-zine you'll get a house training flash course plus a handy infographic.
And your e-mail address is always safe with us, don't worry!