Do you have a whippety question? Enter here your query or keyword.
Allevamento Kollaps
by Andrea Tonolli
(Verona, Italy)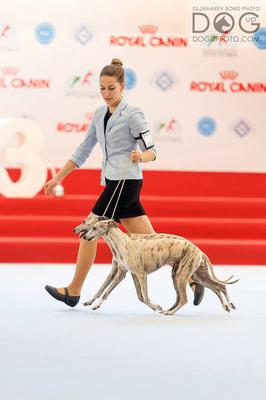 Il nostro allevamento è dedicato alla selezione di whippet e greyhound da esposizione e compagnia.

Alleviamo ricercando le migliori linee italiane ed europee che possano garantire una selezione di qualità attraverso le generazioni, il nostro standard di riferimento è ovviamente quello inglese.

Non alleviamo per fare cucciolate, ma unicamente con l'intento di selezionare whippet di qualità per noi e per i futuri proprietari, per garantire bellezza, temperamento ed un ottimo stato di salute.

I nostri whippet hanno ottenuto campionati di bellezza in Italia e in Europa, oltre che vari BOB e Best of group ad esposizioni nazionali e internazionali, ed una R-BIS alla mondiale 2015 nella categoria coppie.

Selezioniamo attentamente i futuri proprietari perchè i levrieri, ed i whippet in particolare, sono cani molto sensibili e necessitano di un rapporto molto intenso con i proprietari.

Allevare per noi è una passione e cerchiamo di farlo con la professionalità e la passione che questa razza richiedono.

Potete vedere i nostri whippet ed avere notizie sulle nostre cucciolate sul nostro sito greyhoundandwhippet.com
Join in and write your own page! It's easy to do. How? Simply click here to return to Allevamenti Whippet.