Do you have a whippety question? Enter here your query or keyword.
Training a Show Dog
Training a show dog requires some preparation but whippets are among the easiest breeds to prepare for the ring. Tips for training whippets for show.
In the international dog shows you'll see flawless performances and everything seems smooth and easy until you try to do it yourself with your own puppy.Read about our day at the show with our new whippet pup.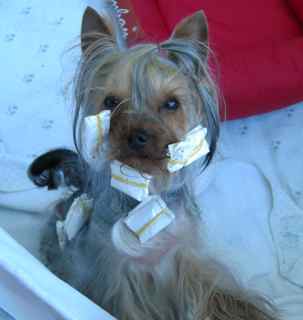 A good starting point for a show career is a beautiful whippet puppy.
It makes sense to look for a puppy from a show line of dogs.
Although the whippet breed is not clearly split in showing and working types like other breeds, if you decide to compete in conformation events you'll be more successful with a puppy that comes from show parents.
The breeder will be your best mentor in dog show training.
A reputable breeder will be able to advise you about all the basics, give you tips and info about local regulations.


To compete in showing a whippet must be:
*at least six month old
*free from disqualifying faults, according to the breed standard
*not to be spayed or neutered
*if male must have two descended testicles


Your puppy must also be able to:
*trot about the ring
*pose when stopped
*stand on a table
*allow the judge's handling without shyness
*be healthy and in good physical condition
*be able to cope with the noisy and stressful environment of the show.



Training a Show Dog with a Click


At home you can start by standing your puppy on a table.
To improve the dog's confidence provide a non slippery surface and make sure the table is steady.
Check the teeth and ears. Keep the sessions short and sweet, the last thing you want is an annoyed puppy.
At about three month of age the puppy will be ready for some leash training. Use a non-choker, light show leash. Let the puppy drag the leash around and get used to it. Reward with tidbits.


Once the inoculations are completed your can start taking out your whippet pup and get him used to different noises and situations.
Start slowly with small walks and gradually building up the puppy confidence and stamina.
At this point a puppy class will be priceless to get your whippet used to other dogs and will provide an informal environment to practice for you and your puppy.
Walking every day with your dog and some off leash running will be the best exercise for you and your whippet.
To achieve a perfect show pose and confidence in being handled, clicker training has proved to be a fast, gentle and effective method for training a show dog.
Whatever are the results of the dog shows you attend, always treat your dog like the Best in Show.
The competition can be very stressful for whippets and we must remember that after all they compete only because we ask them to. Regardless of the results in the show ring our dogs must remain first and foremost our friends and companions.