Do you have a whippety question? Enter here your query or keyword.
Dog Photo Contest #8: Announcing the Winner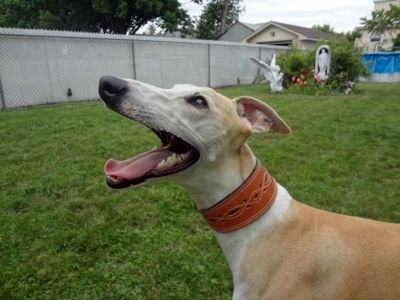 Spanky smiling for the camera
We are thrilled to announce the winner of our eighth Whippet Dog Photo Contest!

And the winner is…(drum roll)… Spanky, with the picture "Did I do Good, Mum?" by Linda Stappenbeck.

Spanky, the merciless tissue killer, with his innocent look is simply irresistible!

With 26 comments Spanky's picture rightfully wins the beautiful whippet collar made with Spanish leather.

And here are the pictures of Spanky proudly wearing his new collar.

We loved receiving all the whippet pictures from our visitors and we would like to thank all the participants for their entries.

We found especially adorable the pictures of Eliza and Hector, the cutest whippet puppies.

The story of Banksy and his best pal Precious the chicken was really amazing. A whippet and a chicken best pals?! Our dogs are really full of surprises!

Are you disappointed because you didn't win? Don't be!

Another contest is up and running, send here your best pictures of whippets!

But meanwhile enjoy on this page the whippet pictures sent by other visitors!



Whippet Photo Contest - "Did I Do Good, Mom ?"
by Linda Stappenbeck
(Lyndhurst, NJ, USA)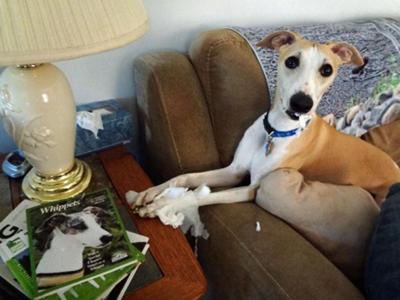 Looking so cute and innocent.....
Spanky is my beautiful 17 month old Whippet. When not running at 35 mph or being a snuggly couch potato, Spanky can usually be found shredding paper products.

Pop-up tissues are his favorites! If there are no more pop-ups available, he will rip apart a regular box until he finds his way to the big clump of tissues inside.

When all tissue boxes have been put out of his reach, he'll go into the bathroom and start working on the toilet paper roll.

How can you get mad at that face ?
Click here to read or post comments
Eliza, the Little Whippet Lady
by Gerdien Nikkels
(Voorst, NL)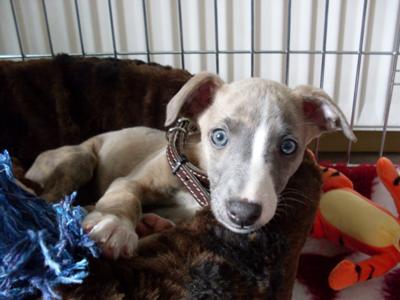 This is Eliza, she is a little whippet girl of 12 weeks old and just four weeks in our home and life, but she's already the light of our life.

The things she loves te do, are playing in the garden, sleeping with her nose behind your shirt, reading a magazine, and just being beautiful.
Click here to read or post comments
Banksy the Whippet and his Pal Precious the Chicken
by Jacki
(Dulverton Somerset England)
Well here is my Whippet Banksy (yes, he is very good at art) and here he is with his best pal Precious the chicken.

They like to hang out together in the garden...especially when it's sunny so they can do a spot of sunbathing!
Who me?
by Angie
(Warwickshire, England)
He may look like butter wouldn't melt in his mouth but Hector is proof that looks can be deceiving!

Having been without a dog for 5 years, I researched whippets thoroughly before finally deciding it was the breed for me.

How empty was my life before Hector came into it?! He is now 4 months old and the most loving, loyal, cheeky, funny little chap you could ever meet.

He is also a thief and a scamp. Nothing within reach is safe and if not caught in time, will be found in little pieces in his basket or scattered over the sofa.

He is currently (finally) flopped out on the sofa, exhausted from naughtiness and two, 1 hour walks today.

I wish I could relax and enjoy the peace, but I know he is just re-charging his batteries for tomorrow's adventures!


Click here to read or post comments
Whippet Photo Contest: Wimpy Dog Champion
by Felicity Van Runkle
(Elmira, Oregon, United States)
We took our 2 beloved whippets to the Oregon Coast Dog Olympics and entered our dear Bijou in the Wimpiest Dog class.

There were dogs dressed as wimps and doing wimpy tricks.

After all were done I asked the 3 Judges turn around and judge my very thin (she was so finicky we literally spoon fed her at that time) year old sweetheart with an overbite.

She was kneeling as she is in this picture. She won unanimously.
Our Dandy Whippet
by Jessy
(Miami, FL )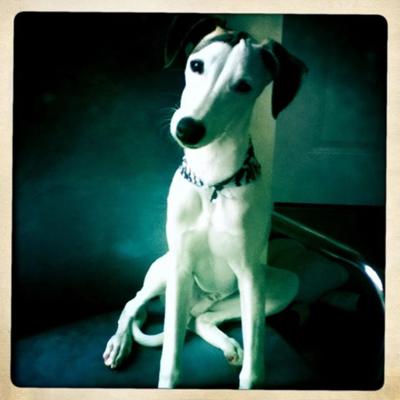 We just got our first Whippet. His name is Dmitri. He is the loveliest little thing(he thinks he is a male model).

So far our life with him has been one of adventures. He struts his stuff in South Beach and then cuddles next to us all afternoon.

He has an older brother (a Frenchie) which he torments but loves!

We are really enjoying our new addition and we are looking forward to many many years with him.









Click here to read or post comments
Jesse and Knut
by Stephanie
(Berlin, Germany)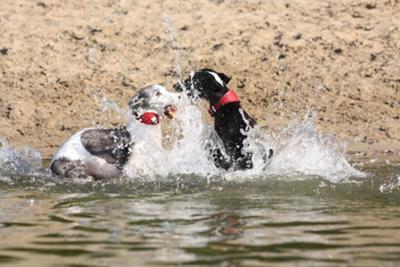 My boys love swimming - which is quite unusual for a whippet. Other whippets we know would never ever even wet their paws.

Jesse and Knut are a bit like Labrador Retrievers - throw in a stick or ball, they will fetch it!

In the summer we take a walk to the lake where we live every day and the boys can swim and run at the beach. It's their favourite spot.

To learn more about my boys and their life in Berlin/Germany please visit our webiste: www.j-k-p.de! There you can find even more pictures of them.
Click here to read or post comments
Me and my Dad......
by Greg Wright
I caught this picture of Pj puppy tucked in beside his dad Beau.

I thought it was so funny Dad fast asleep and puppy keeping watch for trouble....lol....hope you and your readers enjoy it.

Greg Wright
Click here to read or post comments
Whippet Photo Contest: My Heart Has Been Stolen by a Silly Little Clown!
by Linda Musolino
(Quincy, IL, US)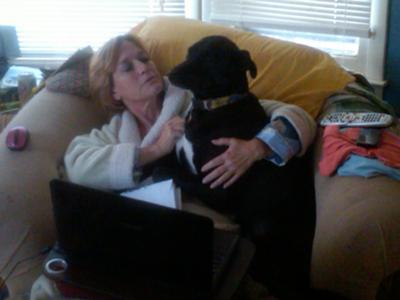 Max helping me get through home projects
This is the story of our whippet Max.

Just a little over a year ago, the lady who runs the kennel I use asked if I wanted to adopt a new dog.

I have always been an akita owner and never believed any dog could be as wonderful as my akitas.

My husband and I agreed to meet this little dog, who's breed at the time was unknown.

The owner had to find a new home for Max because he was getting too big for her condo.

She invited us to dinner to meet him, but when we got there the dog was kenneled in a bedroom while we had snacks.

I didn't have the heart to hear his cries, so I went and opened his kennel.

My husband and I were appalled! This little black dog jumped up on the table and started licking every type of food container he could get his mouth on.

I was shocked, but there was something about him, and his living conditions that made me want to take him home.

The Mom worked a busy full-time job with crazy hours, and the boys were either in school or with their dad when mom was working.

Long story short, we had the little guy meet our akita, Bella. They went through a few growly visits, and we finally brought him home.

Max immediately became the source of more laughter than any dog I've ever known. Even when he's bad he makes us laugh.

We know he has something bad when he races through the house and out the doggie door so fast all you see is a black blur.

We always find him with something he shouldn't have, like sugarless gum, someone's new socks, a purse, or whatever is interesting at the time.

Max cuddles non-stop. If I'm not feeling well, he'll lay next to me on the sofa in a space I would have thought too narrow, but that's where he has to be if I, or my husband, is lying on the sofa.

For the first time ever, my husband fell as much in love with a dog as I did.

Jim loves telling people the story about how Max got out one day as I was leaving for work, and followed me down the road at 30 m.p.h. for 3 blocks, with a police car behind us!

One day I came home and found the bookcase full of cookbooks pulled from the wall, with half of the books spread across the floor.

The telephone stand was also pulled away from the wall. After I investigated, I realized the look he'd been giving me said "I've been TRYING to tell you we have a mouse! This is where he lives!"

He protected us from the death rays of this mysterious mouse, and I laughed so hard I cried as I put my cookbooks back on the shelves and got the furniture back in place.

Now that you've read about our love for Max (which we can never really explain in a quick story), I can tell you about the pain I've been in for 2 months.

On 1/12/12, we had a blizzard with very high winds that started at about 2:30 a.m. The wind blew our gate open and both dogs got out.

Bella came in at 5:00 a.m. crying like I've never seen her cry before, her coat soaked through with ice and slush.

Max wasn't with her. On the few occasions they've been able to get out, Max comes home quickly and Bella wanders around for a day or two, if we don't find her sooner.

In the first few weeks, we had some possible sightings of Max, and I spent all of my time looking for him, sometimes with the help of my step-son.

Because of a wonderful group of people who read the Facebook Page "Lost and Found Pets of Adams County" I have been befriended by so many people.

Complete strangers have gone out during the day to look for Max, and it seems hundreds of people are praying for his return.

I know he is out there and that someone has him. Even the local police, postal workers, and other government people are out looking for Max. Every day I pray that he will escape from whoever has him and come home to his real family.

We have a large hole in our daily life without our fun-loving and funny Max here by our sides again.

It would be great to have a new collar waiting for him when he gets here!
Click here to read or post comments
KaksKaks
by Susanna jokinnen
(Finland)
First vaccinations - bit nervous!

Old fasioned whippets travel old fasioned ways !
Archie Whippet
by Alan Redman
(Devon, UK)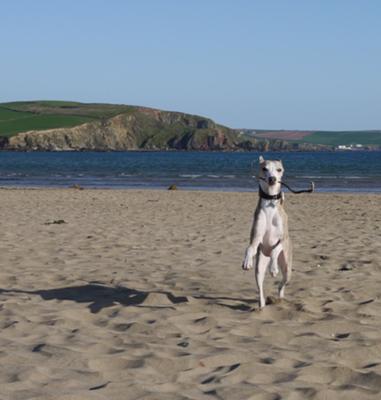 Catch me if you can
Archie the whippet had a sad start to life for he really didn't know he was a dog.

In his early life he was kept in his crate with not much contact and a disruptive routine.

We took him on and my wife, who is experienced in these doggy matters, transformed Archie in a whippet that brings our family happiness every day.

If you could witness the first time we took him to the beach you would have experienced a shy, reserved and often scared dog, scared even of the wind, but now he runs like the wind.

He disappears in a cloud of dust and ensures that everyone knows this is Archie's beach but he will always run back to us to give us ten times more loyalty and love than we could ever imagine.

Tristan the Whippet
by Kevin Ellsworth
(Dusseldorf germany)
I am Tristan the whippet and I am not supposed to be on the couch.
Click here to read or post comments