Do you have a whippety question? Enter here your query or keyword.
How to Draw a Whippet
Whippet drawing is fun and easy. Find out how to draw a whippet like a pro.

Drawing whippets is a fantastic way to create dog art and learn about dog anatomy.

In fact our small hounds sport a very essential outline, the kind of stylized silhouette most dogs hide under their fur.

Probably no drawing school would ever approve of this easy method and it could be considered a shortcut but it is easy and fun and will give you immediate results.

This technique could be used also to get familiar with the whippet shape before it gets permanently engraved in your neurons and you become so proficient in how to draw dogs that you can do it directly from memory.

Follow these simple steps and in no time your walls will fill with whippet drawing masterpieces.

How to Draw a Whippet Step by Step

First Step

Choose a whippet photo. For your first experiments, look for a picture with a simple outline, something that doesn't get too tangled up or confusing.
Step Two

Print your photo on paper. In the example below I used white paper to make the process more obvious but actually textured or colored paper give a more accomplished  final result.

Step Three

Reverse the printed sheet of paper, tape it on a window and trace the outline of the dog with a pencil. At this point you'll have the dog's shape reversed on paper.
Step Four

Keeping the original image in front of you for inspiration color the inside of the shape. You can use various techniques: on colored paper, pastels can look quite dramatic or if you used light paper like in the example, watercolor pencils are the easiest option.
Step Five

If you used watercolor pencils, with a wet brush work the color on the dog's drawing.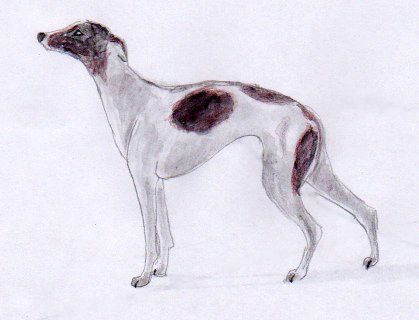 Step Six

Highlight the picture. This is the fun part: use the darkest black for the eyes and nose and when it is dry, enhance the lightest parts of the body and give the eyes and nose a small touch of white as sparkle.




Et voilà you created your own whippet drawing masterpiece!
Whippets are ideal models.
When they lay on our favorite couches, they are the perfect victims for artistic adventures. And if the portrait is not flattering enough, they don't complain!
Click here for a great collection of whippet paintings
Share your Artistic Adventures!
If the art bug bit you, don't be shy, let the world know.

With the form below send us your whippet paintings or drawings, they'll have a special place in our homepage!
Have A Great Whippet Drawing or Painting?
Did you make great whippet art? Share it!
Enter here the pictures of your masterpiece and a short story about it.
What Other Visitors Have Shared
Click below to see contributions from other visitors to this page...

Frankel The Whippet

Frankie is a very large Whippet. He is a donkey whippet, or Whoppet! Only joking, but he is a big boy! I experimented with a snout picture as this …
Classic Whippet Pose

I used chalk on a coloured piece of paper to make a lovely effect. And I just used normal graphite pencils to draw the other one. :-) I'm 11 years old. …
Whippet by Sarah Henderson Not rated yet
Sarah Henderson is an emerging Irish artist residing in Co. Dublin. Using pen and ink wash, her sensitive line work and a loose style combined with …