Do you have a whippety question? Enter here your query or keyword.
Classic Whippet Pose
by Molly Meggs
(Essex)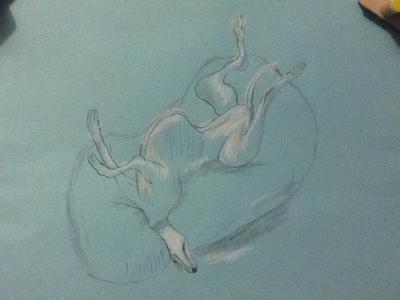 Chalk used
I used chalk on a coloured piece of paper to make a lovely effect. And I just used normal graphite pencils to draw the other one. :-) I'm 11 years old.
Subscribe to my Free Newsletter!
With the free e-zine you'll get a house training flash course plus a handy infographic.
And your e-mail address is always safe with us, don't worry!
Sep 19, 20 08:51 AM

Hi, I need some boots for my whippets sensitive paws, but can't find ones that will fit well and stay on anywhere. Then I found Hunnyboots, which would

Sep 02, 20 11:05 AM

My previous dog was a much-loved whippet, but work has got in the way of owning another for the last few years. Now I'm winding down to retirement and

Aug 24, 20 12:56 PM

Twig is the star of the domestic performance. Wether hiding the remote by lying in it so nobody turns over her favourite TV or nuzzling the bees away from