Winston ( Tigger )
by Bernadette
(Nottingham )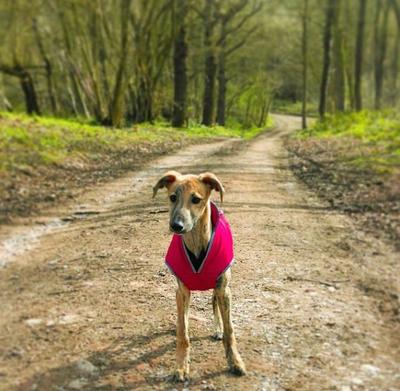 Winston in his read coat.
He's a real joyful character, he's nearly 5 months old and he can fetch, run like the devil and jump like a kangaroo!

He's a real joy to the family, whose cute and cuddly. We often take him for long walks and he runs round the field like a mad man!!!
Subscribe to my Free Newsletter!
With the free e-zine you'll get a house training flash course plus a handy infographic.
And your e-mail address is always safe with us, don't worry!
Apr 20, 18 06:37 AM

2 boys and 2 girl Microchip,wormed and vet checked well balanced and socialzed. Outgoing Puppys, not timid at all.

Apr 14, 18 02:09 PM

Do you have whippet puppies for sale? List your available puppies and let a selected audience know, it's free! Looking for whippet pups? Check out our directory!