Do you have a whippety question? Enter here your query or keyword.
Moo The Whipador: the Sweetest, Fastest, Most Playful Doggie Ever
by Jules
(San Diego)
Here is Moo at 5 months old. She's eleven months now.

She has a whippet's high-arched hips and lean tail and a golden lab's color. She's the sweetest, friendliest, fastest pup ever.

She has never met a dog or human she didn't instantly want to make friends with.
Click here to read or post comments
Join in and write your own page! It's easy to do. How? Simply click here to return to Whippet Mix Pictures.
I Adore a Whipador
by Barbara
(Everett, WA)
Hello! 10/1/16 I rescued a dog who I am pretty certain is a Whipador.

The shelter in Silverdale Washintong said labrador/shepard mix but a friend whose a dog expert suggested whippet & yellow labrador.

His name is Ben. He acts a lot like a whippet that a friend had when I was a kid.

He is reserved/shy at first, rarely barks, low key (as in not hyper) and very sweet but still energetic. I was looking for an easy going smaller dog that had a low maintenance coat & demeanor.

He seems to be a perfect match for me.
Join in and write your own page! It's easy to do. How? Simply click here to return to Whippet Mix Pictures.
Whippet/Choc Lab Cross: My Love Guinness
by Lesea
(California)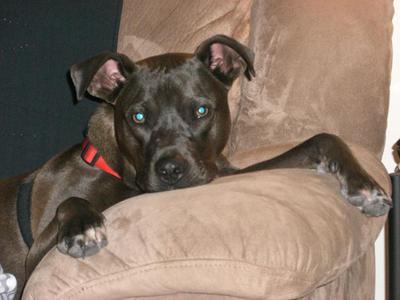 Guinness today
3 years ago I was looking on Craigslist at dogs. I was thinking of getting my dad a dog so he could get out the house and exercise.

One day I came across this beautiful baby but his eyes looked sad.

I call the man and say I'd like to look at the dog and possibly give him a new home.

The man comes over the next day and there is Guinness. He was such a lil gentleman that I fell in love with him that second and before I could say anything the man had all his stuff which he pulled out of his truck.

I said: "well, Guinness I guess this is your new home".

He has been the best dog ever, loves being around us and if he can't see us he gets nervous.

He has slept with me from day one and all I have to say is "OK Guinness lets go to bed".

I can't picture my life without him and his funny little ways like when he is hiding his bones BUT if he sees that you spotted him he will go find another hiding spot.

They are the best breeds but are very sensitive and don't like you to raise your voice.

With Guinness the only thing I can figure is he must have been abused so I'm so glad I found him when I did.
Join in and write your own page! It's easy to do. How? Simply click here to return to Whippet Mix Pictures.
My Handsome Guinness
by Lesea
(Alameda California)
My Guinness awaits his daily walks. He is always wanting to go see all his friends at the park.

Guinness came to us 3 years ago and is a very loving dog who loves to play catch.

He amazes me at how high he can jump to catch his ball. He's a great partner during football season rooting right along with me for our team.
Join in and write your own page! It's easy to do. How? Simply click here to return to Whippet Mix Pictures.
Whippet Labrador Mix: Sandy the Hobo Angel
by Tamera
(Dallas, Texas USA)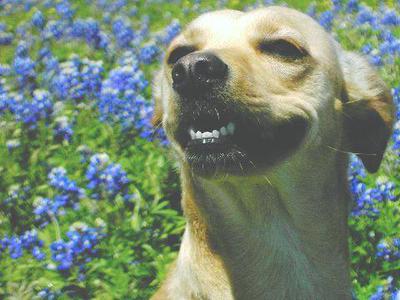 Sandy In the Blue Bonnets
Several years ago we saw someone dump a dog on the railroad tracks by our house.

We already had a family of chihuahuas and didn't really need another dog but we couldn't leave this baby on the railroad tracks so we picked her up.

She was about 8 weeks old according to our vet, she barely had her little needle teeth and she weighed about 12 lbs, so we knew she was going to be a fairly nice sized girl.

The Vet also told us she was a Whippet/Lab mix. We thought she was Lab, she had the features of a Lab but with extremely long legs and could run like the wind.

As she has grown into a beautiful adult, she is now 8 years old and weighs 42 lbs, she does look more like the lab but is extremely sensitive like the Whippet, she gets her feelings hurt very easily and unlike the Lab, she despises water. If we put her in the pool, she will sulk for days.

She loves to dress up in clothes, she has her "friends" at the local banks, food drive ins and pharmacies who give her treats when she visits with us and she even has her own Bookie at Lone Star Park in Grand Prairie Texas who always makes a point to spend a few seconds to come see her and give her treats when we visit.

She is our four legged daughter, she too tries to talk, when she is excited she growls a little song and she loves to play with toys. Her favorite is a stuffed rabbit that looks like a real jack rabbit.

She has her own closet of clothes, her own Facebook page and when we take her places, she prances like she knows she is on display. I bought her a life jacket for a recent trip to Florida.... knowing she doesn't like water, I told her it was a dress, she wore the life jacket around the house a couple of days, even slept in it one night but when we put her in the pool with it, that was the end of her love affair with "the dress", she got so upset about being in the water she faked a stroke to get out, scared us half to death but as soon as she got out of the water she just took off running and scratching on the door to go inside.

She is quite an actress, if she thinks she is in trouble for something she has a fake limp she uses to try to gain sympathy.... diversion to what she has done (like chew the points off the rockers on my rocking chair).

People ask us all the time "what kind of dog is that".... we tell them she is a Whiporador and she is 100% sweet and she is... the great thing about these babies, they get the best of both breeds.

We love her and she is valued as one of the family and treated as such. Oh... and she loves to smile!
Click here to read or post comments
Join in and write your own page! It's easy to do. How? Simply click here to return to Whippet Mix Pictures.
Our Lab/Whippet Mix Elle
by Pat Gierczic
(Wisconsin)
My husband and I were set on getting another lab. Our dog Lady passed away last summer at age 15 1/2. She was perfect. Everything you would want in a dog,she had,and more. Lady was a exceptional beautiful yellow lab. She was 7 months when we bought her.

We had been looking. I answered a add in the Sunday paper,but the pups had dew claws which were costly to remove. should we or shouldn't we. we kept looking. Then about 6 weeks go by and there is a ad for yellow and black labs.

I call and recognize his voice from the add 6 weeks ago. he sayd that these dogs really need a home and that he has another litter coming. So, my husband and I decide to go see. We pull into the country drive way and get out of the car. We both looked at each other and said"puppy mill".

We have only read about these mills in the paper and on line. We could hear many dogs barking in the sheds and in the run down old house.All of that barking lasted a few minutes,then silence. A man comes out and says that he only has two dogs left. Just sold one 2 hours ago and he kept a sister.

He went into a shed and in a few minutes out come two black dogs. There was a larger pup and a smaller pup. He said that the labs were from two different litters,but they had the same father who has champion blood lines.

The dogs immediately ran to a muddy puddle and drank and drank. The bigger one ran around and it come close,but when we would reach out to pet her, she would flinch and run. The smaller dog came close when I crouched down. She let me pet her,then backed off. She came to me again and

I really looked at her. She had the sweetest face and beautiful eyes. But she was literally a rack of bones. She looked scared and weak. Her hip joints were protruding and you could count every rib. She had patches of hair missing and a draining eye. She layed down on the gravel.

The man said that she was the runt of the litter and didn't get enough milk. The labs were 4 months old.The other dog was from another litter, only a week older. The man went inside to get his male. His prize dog. He came out with the dog and a kettle of food. The other two pups tried to get a bite of food,but couldn't.

He talked about what a great dog this was and how these other two dogs have his genes. As soon as the dog was done eating he was brought back in. My husband said, well Pat, do you want one of these dogs? I said , let's take the little one.Just put her in the car. The man was asking $125,but said that he would take $100 and throw in the puppy shots that were due.

They needed homes, quick. He picked the pup up by the skin on his back and said here hold her while I give her the shots. I asked for the labels so I could tell out vet what the shots were. He tore off the labels and said that the shots were expired but still okay. We put our new dog in a crate and drove off.

His parting words were to make sure that she saw a Vet soon. We just couldn't believe what we had just experienced.We talked about it all of the way home. Our dog did not make a peep on the way home,which I thought unusual for a puppy.

I said "what if she dies on the way home?".We gave her a bath with in 5 minutes of arriving home. She just stunk.The next day we were able to get her into our vet.

Our dog was very malnourished,patches of hair missing,body rash,lethargic. She needed all of the shots repeated. Antibiotics for her skin infection-which also cleared up her draining eye. Her muscles in her back legs were week and she stumbled.

The biggest surprise was that she was at least 8 months old and had very little lab ,if any in her! The more that we looked at her and tried to figure her out, we decided that she was a lab/border collie mix.

Two weeks later we decided that she is a lab/whippet mix. She has so many traits of a whippet. The very first thing that she did when she came in the house was run and jump onto the cough.She has gained 4 # in the last two weeks.

We do know that she is sweet,likes to cuddle,eats like a horse,needs to be taken out ofter, jumps 4 or more feet in the air,runs faster than you can believe. She wants to be around us.

She can sit. She kind of knows what a toy is.She is still fearful of noises and leary of things that she has not seen before-like a tennis ball. She has come so far since that day 2 weeks ago and She still has a long way to go go.

Elle is going to be spayed next week and puppy training classes to follow. I have told our story at work and some one said that it sounded like the same place a co worker had gotten her dog from and how awful the place was,with crates of dogs stacked up.

She told me to give the investigator her number and he did call her and get her story. The mother dog had mange and conditions were deplorable. And yes, I did report the owner.

I called the Humane Society and asked who I could report a puppy mill to. They gave me a name telephone number and email address Within 2 weeks this animal investigator had removed all 48 dogs from this property.

Two had to be put down,more were in very bad condition,there were a few litters of puppies. Inside of the house were caged dogs also. I just knew that no one could be living there. So we look at it this way,we saved our dog from death.

We will love her and give her the best life that we can give to her
Click here to read or post comments
Join in and write your own page! It's easy to do. How? Simply click here to return to Whippet Mix Pictures.
I Think She's a Whipador

(Houston, tx)
I got Lola from the pound last august she was found as a stray. She has the most beautiful eyes.

They said she was a lab mix with terrier. I really never saw terrier in her but I did notice characteristics of running dogs.

Her legs, chest and stomach remind me of a greyhound but I now believe she I part Whippet part lab. She sits with her legs splayed out in front runs like the wind and can jump up to 6 ft.
Join in and write your own page! It's easy to do. How? Simply click here to return to Whippet Mix Pictures.
My Whippadors
by Kim Farrell
(USA)
My husband and I have the most incredible whipador, Micky.

He is black, with a lovely, narrow white stripe centered on his chest. Micky has two siblings - a 12-year-old Molly, a chocolate lab, and 3-year-old Murphy, a yellow lab.

Molly is Queen Alpha and Murphy is the extremely even-tempered middle child, always
playing with and tolerating one-year-old Micky.
Join in and write your own page! It's easy to do. How? Simply click here to return to Whippet Mix Pictures.
My Lab/Whippet Mix
by V. Young
(Franklin, Ohio)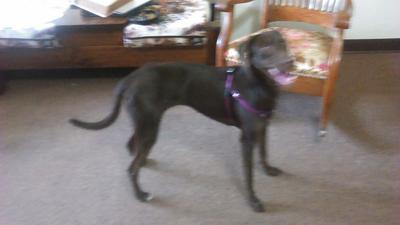 Blurry picture of her form.
Lucy and I connected this afternoon. Evidently she was picked up as a stray and all attempts by the humane society were futile. Which is good for me, as Lucy and I connected instantly. I got her for a therapy dog, as I have anxiety problems myself.

We have spent all day getting to know each other. And the more we know, the more we love each other. Since she is quiet when she goes to to the door, wanting to be taken out, I didn't understand what she wanted, so we had our first accident. I said "Oh no, its okay, it was mommy's fault for not understanding. I cleaned up the mess, then took her outside.

I put a bell on the door, and am hoping to train her, like I have other dogs, that when she wants out, to ring the bell. I do that by ringing the bell before putting her leash on, to take her out.

She is smart, 2 yrs old, and has some training when she was younger. I think within 6 months, she will be fully trained for what I need, as she is my companion and therapy dog.
Click here to read or post comments
Join in and write your own page! It's easy to do. How? Simply click here to return to Whippet Mix Pictures.
My SWEET Stella
by Lalaneya
(Puyallup, WA)
Got this sweet girl from a rescue. Her and her sister were rescued off of the streets.

All I was told is she was a lab mix. Yet, after seeing her mannerisms and personality with research I strongly feel she has whippet in her.

She does not run with the double gait yet she LOVES to "whip" around the house cracking everyone up. Doesn't bark much unless she sees a cat outside of the window.

No dog smell, loves to get her spot just right on the couch fussing with blankets with her nose, sleeps with us only, has the hare like feet, and her tail and body structure reminds me of a whippet.

We just ADORE her and how she is with kids. :) We now want her to have a rescue whippet for a companion friend for her in the near future.

I just love this dog.
Join in and write your own page! It's easy to do. How? Simply click here to return to Whippet Mix Pictures.
How Russell the Whippador Got His Groove Back—Conquering Doggie Anxiety
by Michael K. Rhodes
(Seattle, WA )
My wife Kelsey and I believe that our rescue dog Russell is a "Whippador," a rare combination of Whippet and Labrador Retriever. When outdoors—Russell runs free like the wind. When indoors—Russell spends most days snuggling on our couch and burrowing under our bedcovers. He is well-known by dog-walkers and visitors of Magnusson Dog Park. When he was a puppy, another dog owner exclaimed, "He is the happiest dog at the dog park! He says 'hi' to everyone." But Russell had a significant anxiety setback during his "terrible twos." This is the story of how Russell got his groove back.

i. Whippadors are wonderful and quirky

Russell is a real-life version of The Simpsons' Santa's Little Helper. He is wicked fast, has a human-like countenance, and is quirky beyond belief. Whippadors, as a breed, are commonly friendly and are known as "leaners." Russell is the definition of a leaner. Going to the dog park with Russell is always a kick because he commonly walks up to other dog owners and leans on them to be petted—much to the chagrin of other dogs—who get "jelly" of the attention that Russell receives from their owners.

ii. Overcoming doggy anxiety

When Russell was almost two years old, Kelsey and I took him to Lopez Island for the 4th of July. It was an unmitigated disaster. Our intention was to camp in a tent on the lawn of "The Islander." We anticipated the fireworks and received a dose of doggy valium from our vet; but we did not anticipate the crippling effect that the fireworks had on poor Russell. Although Lopez is a small island, the shooting off of fireworks started early and often, with each firework loudly echoing off of the water. When Russell gets scared, his tail tucks under his legs, he shivers, he sometimes burrows, and he often tries to run home or find a perceived place of safety. He is often unwalkable in his heightened state because his body simply refuses to move. Russell is not a small dog either, he is 45 pounds, so when he refuses to move, it can be challenging.

Starting on the 4th of July, Russell was now spooked by more and more loud noises, especially fireworks. Hikes in the mountains would be ruined because he would hear a loud noise and refuse to continue the hike or he would aimlessly run down the hill upon hearing the sound of echoing gun shots. It seemed like he was starting to become afraid of everything and it was a very difficult time to be his caretaker. We spoke with other owners, our trainer, doggy therapists; no one quite knew how to help Russell with his anxiety. At the time, we did not have any answers either.

During our honeymoon in October of last year, Kelsey broke her wrist while hiking down a mountain on Maui. We had to cut our trip short so she could be operated on in Seattle. Over the next few months—as Kelsey recovered from her injury—she helped Russell recover from his anxiety. Kelsey and Russell had a symbiotic relationship that was beautiful to see. Russell was able to recover because of the significant time that Kelsey put into making sure that Russell always knew he was safe. I also believe that Russell innately knew he was helping Kelsey by walking with her so that she could improve her wrist strength and function, and regain her overall confidence.

iii. Practical tips

Russell is once again the "happiest dog at the dog park. " And he has overcome many of the challenges he faced as a two-year-old. Some practical tips I have are:
- Stick with it: Dogs mature and need to be loved. There will be setbacks, but it's worth it to stick with it and put in the time.
- Dogs thrive on adversity: Kelsey's injury helped give Russell some perspective to overcome his fears, and help Kelsey with her challenges at the same time.
- Appreciate your dog: Dog ownership can be challenging, but is very rewarding. Russell is my first dog, and I cannot imagine my life without him.

Join in and write your own page! It's easy to do. How? Simply click here to return to Whippet Mix Pictures.
Abbey, Our Whippadoor
by Linda
(Naples,Florida)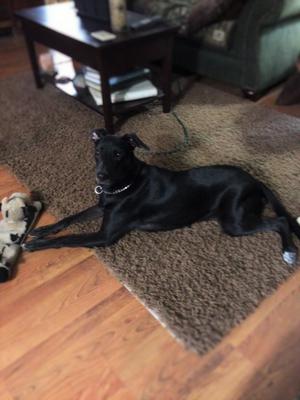 Abbey was left at our shop.

We asked neighbors thought maybe she was lost but no she adopted us!

She just turned a year old and is about 50lbs.She is a great dog. She has so much personality.

I love my whipador...
Join in and write your own page! It's easy to do. How? Simply click here to return to Whippet Mix Pictures.