Do you have a whippety question? Enter here your query or keyword.
Whippet Mix: Bryn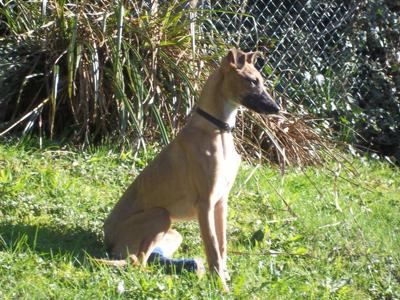 settling in
I rescued the then named 'Trevor' dog from the local dog pound.

He came with a broken leg and a desperate need for love.

For 6 weeks he was in a heavy dressing, terrified and an emotional wreck, he slept for almost two weeks , recovering from whatever his plight may have been, slowly but surely he has become a wonderful companion, albeit a handful at times.

He adores the beach and my bed, he adores the fields and my bed, he loves everybody and my bed!

He won't get much bigger they said, well in that case my bed has shrunk !
Join in and write your own page! It's easy to do. How? Simply click here to return to Whippet Mix Pictures.
Subscribe to my Free Newsletter!
With the free e-zine you'll get a house training flash course plus a handy infographic.
And your e-mail address is always safe with us, don't worry!
Mar 30, 20 11:09 AM

My fiance and I are interested in getting a Whippet. We have done a lot of research and we feel this is a perfect dog for us! Please let us know if you

Feb 06, 20 02:33 AM

Looking for a companion whippet. Just lost my two 13 year old brothers to cancer & heartbroken. Cannot seem to find any in SE?? Long history of dog rescue

Jan 15, 20 06:10 AM

I'm looking for black or black and white female whippet under 12 months old. We already have brindle siblings 2.5 years old.