Do you have a whippety question? Enter here your query or keyword.
Whippet Dog Photo Contest: Reindeer Whippets
by Red Carey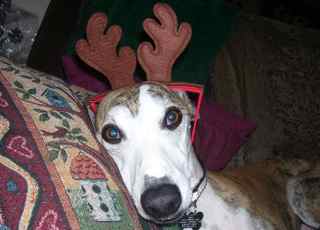 Hi there, we are Rudy & Cooper, our mother likes to dress us up for special occasions.

Listen, it's not like we like it! Actually we are a little embarrassed about it. I mean what's next? Bunny ears at Easter time? I mean, really we have our studley images to maintain!

I just hope none of the other dogs we know see these pictures or we will be the laughing stock of the dog world!!


Return to Whippet Dog Photo Contest 3.
Subscribe to my Free Newsletter!
With the free e-zine you'll get a house training flash course plus a handy infographic.
And your e-mail address is always safe with us, don't worry!
Mar 30, 20 11:09 AM

My fiance and I are interested in getting a Whippet. We have done a lot of research and we feel this is a perfect dog for us! Please let us know if you

Feb 06, 20 02:33 AM

Looking for a companion whippet. Just lost my two 13 year old brothers to cancer & heartbroken. Cannot seem to find any in SE?? Long history of dog rescue

Jan 15, 20 06:10 AM

I'm looking for black or black and white female whippet under 12 months old. We already have brindle siblings 2.5 years old.