Do you have a whippety question? Enter here your query or keyword.
Whippet Dog Photo Contest: Reindeer Whippets
by Red Carey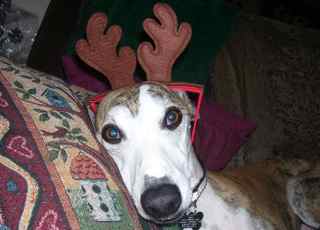 Hi there, we are Rudy & Cooper, our mother likes to dress us up for special occasions.

Listen, it's not like we like it! Actually we are a little embarrassed about it. I mean what's next? Bunny ears at Easter time? I mean, really we have our studley images to maintain!

I just hope none of the other dogs we know see these pictures or we will be the laughing stock of the dog world!!


Return to Whippet Dog Photo Contest 3.
Subscribe to my Free Newsletter!
With the free e-zine you'll get a house training flash course plus a handy infographic.
And your e-mail address is always safe with us, don't worry!
Apr 21, 19 05:40 AM

Click here to see the video Whippet unborn 56 day pups jostle about while their mother sleeps.

Apr 08, 19 03:15 PM

Luna, my adorable 2 year-old pup, loves to 'play sticks', pull carrots out of the garden, and best of all....cuddle!

Feb 12, 19 03:25 PM

Good morning! My husband and I would like to add a whippet to our family. We lost our greyhound in October just a few days shy of thirteen years old.