Do you have a whippety question? Enter here your query or keyword.
Whippet Dog Photo Contest #11
Ladies and Gentleman is my honor and privilege to announce the winner of our eleventh Whippet Dog Photo Contest.

And the winners are....


Miles and Lily

with a great picture by by Jaime (London, ON, Canada).

Congratulations, well done!

We all know how easy is to fall in love with whippets and how difficult it is to have just one... and yes, I know by experience that rising two puppies at once is a lot more difficult than rising only one.

But whippets are just like cherries or chips (depending on your taste), you can't have only one!

Jaime with his pictures and the highest number of comments wins a lovely leather whippet collar.

I guess Miles and Lily will have to take turns with the new collar unless Jaime wins also the next photo contest!

We enormously appreciated all the great pictures and the funny, sweet and endearing dog stories we received.

We would like to thank here everyone for taking part with entries and comments to our photo contest.



Two whippets are better than one
by JAIME
(London, ON, Canada)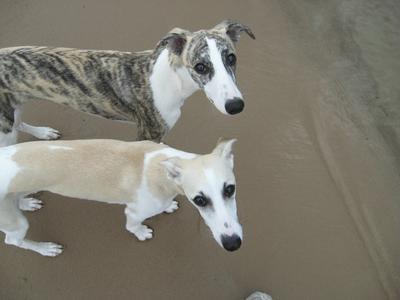 Miles & Lily at the beach
I didn't even know what a Whippet was when I first saw the skinny almost rat-like dog.

And then I met Cindy.

Cindy was my first whippet and my first real dog. Years later after she passed, I decided it was time for another dog so I set out to find another whippet just as endearing.

I reached out to two rescue organizations but neither had dogs to place.

I arrived at the breeder with check in hand.

Another female whippet but this time a fawn.

And then it happened.. out from around the corner came this full-of-life brindle male and I knew I had to have him.

"How much harder is it raising two puppies instead of one?" I asked.

Miles and Lily both came home with me and I haven't looked back.

By the way - it is a lot harder raising and teaching two pups instead of one - in case you wondered. But I wouldn't change a thing.

Miles and Lily will be 5 years old on March 17th, 2013.

Two whippets, two cats, a marriage and now two children later I am grateful for the things animals teach us: loyalty, kindness, importance of family and how a cuddle with a whippet (or two) might just be the therapy I need at the end of the day.

Click here to read or post comments
Godric: Butterfly Hunter
by Hayley
(Oregon)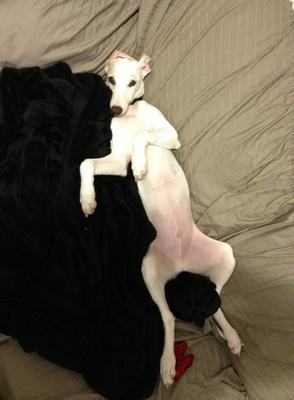 Lazy whippet.
Godric is our little 4 month old whippet.

Despite having a very sweet, loving nature, he is also a thief.

His favorite thing to steal? Tissues from the garbage.

He knows he can't have them, so he'll wait until I leave the room for just a second, then he snatches up as many as he can from the dispenser or garbage and tries to pull an innocent face when I return.

It's hard to hide bits of tissue, particularly when they're sticking out of the corners of his mouth.

He's also not particularly fond of dog food, but he will beg for pieces of uncooked asparagus (I know, right?).

Godric is beautiful and elegant like all whippets, but at the same time, the biggest clutz I have ever seen.

He trips over things, and I don't think he realizes that when he's running full speed he should probably avoid walls, or people...or the occasional dishwasher.

I've seen him do more somersaults than most gymnasts probably do in a lifetime.

He also has a talent for faceplanting, usually right onto gravel after taking on a particularly high jump.

I always run over to him concerned (and also trying not to laugh), only to find that he gets right back up, wags his tail, and goes off in search of something else to get into.

He doesn't seem too interested in birds or rabbits, but butterflies are a different story.

Something about their fluttering intrigues him, and no matter what he's doing, if a butterfly flies by, he's after it.

His head whips around, then he sprints after it, leaping and snapping his jaws.

Fortunately for the butterflies, he's not very coordinated yet, and the gusts of wind from his excited jumping is enough for them to fly away unscathed.

In the end though, Godric's favorite thing is to lay down with his head on someone's lap and take a long nap. It's hard work chasing butterflies!

Click here to read or post comments
My Whippets Yin-Yang
by Christopher Meyer
(Pensacola,FL, USA)
Naya the white princess on the left and Rosco the brindle troublemaker on the right make the perfect pair.

They are definitely the yin and yang of dog relationships.

They come together the most when the warm Florida sun is shining.
Click here to read or post comments
Mortimer's Iceflower
by Claudia
(Germany, Saxonie)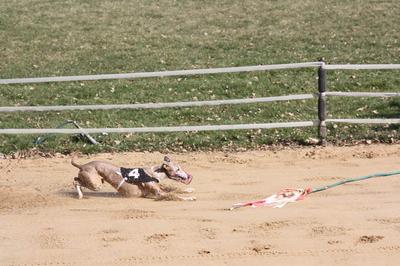 Training is a Must have also with 9.
This is my first whippet Iceflower.

She is now 9 years old! Thanks to our whippets we have seen new friends, new places and beautiful moments of life.

She was the reason to quit smoking.
She was an avid courser, runner and a successful show dog.

In her character she is a true diva, you have to call her several times if she doesn't want to come but for the right snack she makes normal commands such as sit, down and stay. She enjoys her toy rabbit.

Thanks to her, we now have three whippets and can not imagine ever living without this wonderful breed.

See us on http://whippets-for-life.blogspot.de
Click here to read or post comments
LOTUS - The Cheese Whippet
by Madalena Pereira
(Perede - Portugal)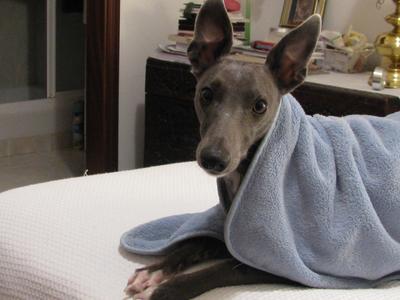 With my husband we went for a week holiday in the beautiful "Pousada" castle at Palmela, overlooking the Atlantic Ocean and the river Sado, in Portugal.

At the end of the stay we decided to visit a "Queijaria", a cheese factory in the village to buy some of the hiper-good and famous cheeses of the region.

When we arrived there we saw a female whippet with signs of a recent offspring...

The owner appeared and we asked for the cheeses, but I asked about the offspring too.

They were 3, 2 girls and a boy and this one was greyish/blue.

"Dam I shouted, this is exactly the colour for the Italian greyhound I want to own!"

"Take this one" the man said while I took the 2 months baby boy in my arms and he began licking me.

"No, thanks, I only want a small Italian greyhound" I replyed "I'm dreaming for an Italian, after years..."

Baby dog looked at me and began licking me exuberantly...

Then with the cheeses already in our hands, my husband told the man:
"It looks like he wants to be adopted by my wife... OK sire, don't sell it and in a week we will call you just to say if my wife decides something about"

"No, no,for sure, I only want an Italian!"

One month later a box of cheeses together with that blue/grey baby dog was bought and came to our house, and our whippet became the most loved prince in the condominium!

He is a beauty and a sweety and we are still in love after almost 3 years.

His name is Lotus, the very happy boy.
Click here to read or post comments
Eli and Nellie
by Denise Soper
(Toledo, OH)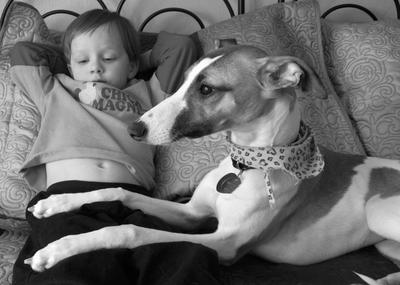 Nellie, my whippet, has been my son Eli's buddy for several years.

He loves reading to her, watching TV with her, and playing with her.

In the first picture, Eli relaxes on my bed daydreaming while Nellie watches intently out the window at a squirrel.

This picture is very special to me because it captures the beginning of a beautiful relationship.

The second picture is Nellie watching Eli run around the back yard waiting for her buddy Eli to throw her "baby."

I enjoy her sleek silhouette emphasizing her beautiful curves.

The third picture was taken the day after we brought Nellie home.

She was nervous and did not care for the camera. This is my favorite Christmas picture of my boys and Nellie.

The fourth picture was taken the day I got my fisheye lens.

Nellie was not up for posing for a picture, so I captured her doing one of her favorite activities, sleeping.

I love the condensation on the lens.
Click here to read or post comments
My "Greyhound Puppy" Whippet
by Linda Brewster
(Rocky Face, GA, USA)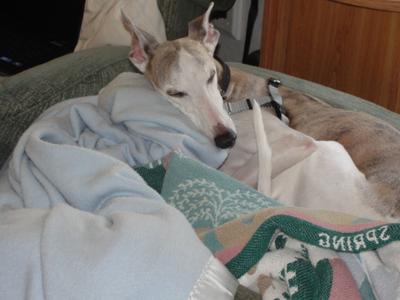 One day I received a phone call about a 9 month old Greyhound puppy that was being auctioned off on a radio show.

Since hearing tales of what terrors Greyhound puppies could be, I called a near-by Greyhound rescue group that was closer to the city where this Greyhound puppy was being auctioned off.

They agreed to go get the puppy. A few days later I received a call from the group with a big surprise.

The "greyhound puppy" was, instead, a whippet! I immediately, without thinking, blared out "I want him!"...and eventually he became mine.

His nickname when I got him was Sir Humps-a-Lot because he had just been neutered, and must have had an over-abundance of hormones.

Fortunately, within a month he turned into the king of the house.

Alpha was his middle name, and he set about proving it.

The greyhounds cowered at his bark and growl, but he immediately attached himself to me (obviously his savior in his eyes) and he has been in my lap, and under the bed covers attached to my side ever since.

Love you say? Ah, yes! A love like I have never known.

He gazes into my eyes with love that would melt a frozen heart.

And yes, the love is returned in kind.

He is, without a doubt, the love of my life.
Click here to read or post comments
Evann Our Lovely Whippet
by Christelle
(London)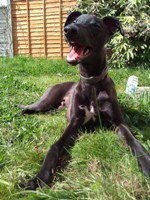 So happy
My friends call Evann the golden dog because they say that we spoil him too much :)

Well, it is true that for Evann we would do anything.

Evann was living in Paris before but when his previous owner could no longer look after him when he was 5 months, we decided to go all the way to Paris to pick him up.

Since we have him, he is the center of our life, so much that for new year eve we left the party just after midnight because Evann didn't have a babysitter and we didn't want to leave him alone too long.

Of course, my friends find that it is funny but to us, Evann is a little furry person with his own personality.
Click here to read or post comments
Ferris' holiday
by Graham
(Brighton, UK)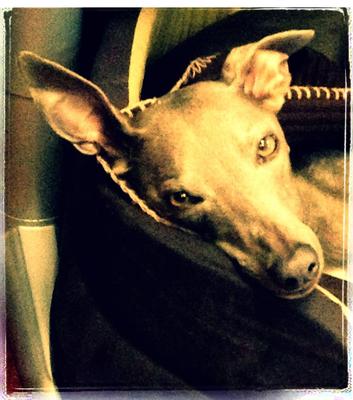 Did someone mention dinner?
We recently went on holiday to California and our dear boy Ferris spent 10 days with a doting dogsitter who lived in a very posh apartment near Harrods in London (it was a holiday for him too).

We got daily updates and pictures so we didn't miss him too much - apparently he knows when the camera comes out and usually obliges with a pose...