Do you have a whippety question? Enter here your query or keyword.

Whippet Colours
Blue and Black Whippets


Whippet colours come in any combination, it's one of the charms of this dog breed.
The breed standard states that the coat color is immaterial and in the breed you can actually see everything from pure black to pure white with every making, hue and shade in between.
No two whippets are identical, it's one of the many charms of this dog breed.
In the American standard it is noted that eye color can vary with coat color but dark eyes are to be preferred and blue eyes are to be penalized.

Don't panic though if your new puppy has blue eyes, in blue puppies, light eyes will turn dark with age. 

Whippet Colours of the Coat



The colour of the skin and hair is given by two pigments the eumelanin (black) and the pheomelanin for (brown/red).

The absence of these pigments results in white hair and skin, therefore white is not a real color but more a lack of it.
Part of the charm of the whippet dog breed is the infinite variety of coat colors and patterns that make every dog so special and unique.
This huge variety is the result of the interaction of the genes that determine the distribution, the combination and the amount of the pigments on the hair and skin.
Not many kennels breed for a specific color so, it is always a surprise to see all the different coat colors in the same litter of puppies.
Whippet Colours of the Eyes



The UK whippet standard states that the eyes should be "oval, bright, expression very alert" but doesn't require any specific eye color while the American whippet standard specifically requires "eyes to be dark brown to nearly black in color".
Whippets with diluted colors, especially the blue, can show blue eyes as puppies and, once adult, they often have less intense eye color than darker whippets.
Pictures of Black and Blue Whippets



Black whippets don't seem to be as popular as the flashy brindles and particolored.
Maybe they don't catch the judge's eye in the show ring like colored dogs but, nevertheless, black and blue whippets also became great champions like Ch. Poaching Black Jack, Ch. Martinsell Grand Slam, Ch. Nimrodel Noir, Ch.Nimrodel Zenith and Ch. Laurelcote Lady in Black to name a few.
There is no doubt that although black and blue are considered "difficult" colors, they can be very elegant indeed.
Here is a collection of whippet pictures from our visitors, completely dedicated to the black and blue dogs.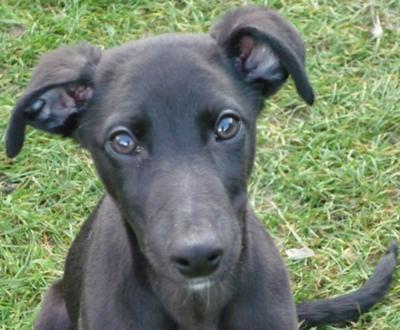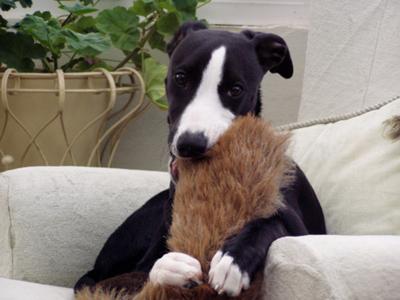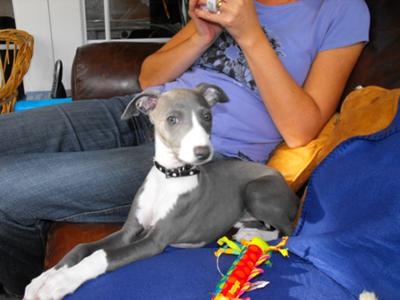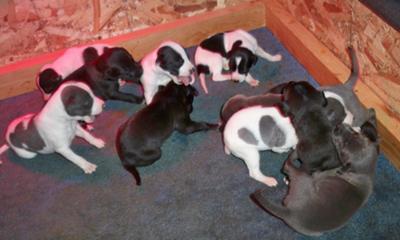 Find out about whippet color genetics here
A beautiful black whippet deserves an elegant name, click on the link to find the best black dog names.