Do you have a whippety question? Enter here your query or keyword.
Rye the Whippet Mix
by Michelle Hawkins
(New Zealand)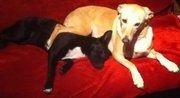 Rye came to us from the SPCA in Masterton, New Zealand. She was 6 months old and had been badly beaten. She was timid and just scared of everything especially males.

We have had her now for 81/2 years and she has grown in girth! And trust and confidence. Believe me, it took time and love but it was all worth it.

She is incredibly loyal. We absolutely adore her. 21/2 years ago we adopted a waif/ streetkid 6 month old staffy lab x and we couldn't have hoped for a better companion. Rye is patient, caring and has taught Ebby all of her bad habits!

Rye has developed arthritis and likes nothing more than to go for her walk and relax. She is the best thing that could have happened to all of us. She is currently focused on food as we are helping her to lose weight! She is almost down to where she should be and her arthritis is bothering her less.

The message I give everybody is to adopt from the SPCA. You are helping them out and are also most likely to get so much more in return.


Join in and write your own page! It's easy to do. How? Simply click here to return to Whippet Mix Pictures.