Race Time
by Jeffrey William Cameron
(Wilsonville Oregon USA)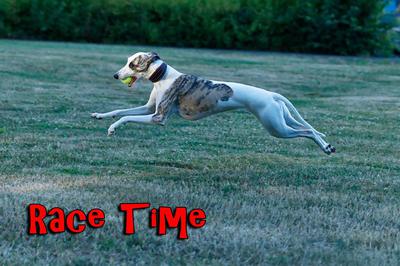 Lola is just nine months old and cannot go a day without running in the park chasing her favorite ball. Well ok, every ball is her favorite ball.

She is so focused on her ball as we walk through the park that she passed by a couple bunnies just 20 yards away. And I thought they were sighthounds LOL. I guess she feels the ball is way more fun than chasing rabbits.

Lola has decided that her other skill in life is leaping. Yep the ability to jump straight up in the air from all fours reaching over five feet. Now she is only 9 months old, so I will have to raise the height of my backyard fence to 9 feet before she gets too much older - LOL.