Our Sweet Lady Sophie
by Onelia Pope
(Oshawa, Ontario, Canada)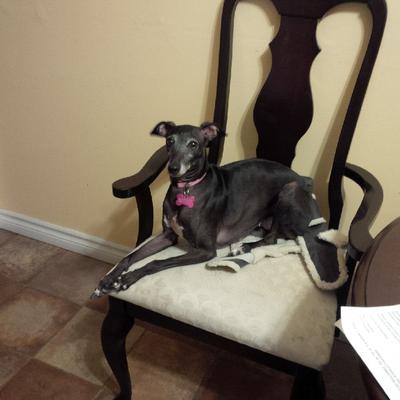 Just waiting for you:-)
We are a family of 5 and one of those 5,is our lovely Ariel a toy poodle, everything you could wished we have with her or so we thought.

Our eldest daughter started to ask if she could have a dog that could be her own and so, knowing that a lot of the responsibility and care would still fall on me, my husband and I agreed to start looking.

Little did we know Sophie, a 5 years old mini greyhound was living at a foster home and awaiting a loving home.

I don't know what happen but we were suppose to go meet this little girl on Sunday and return a week later to pick her up but somehow it was a unanimous vote and we took her home.

I still Adore Ariel and we make sure the girls get as much exercise/play time and cuddles but Sophie stole our hearts and is only my hope that we can have her for many, many years to come.