Our Sweet Lady Sophie
by Onelia Pope
(Oshawa, Ontario, Canada)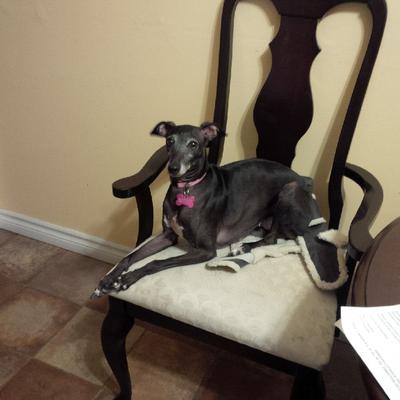 Just waiting for you:-)
We are a family of 5 and one of those 5,is our lovely Ariel a toy poodle, everything you could wished we have with her or so we thought.

Our eldest daughter started to ask if she could have a dog that could be her own and so, knowing that a lot of the responsibility and care would still fall on me, my husband and I agreed to start looking.

Little did we know Sophie, a 5 years old mini greyhound was living at a foster home and awaiting a loving home.

I don't know what happen but we were suppose to go meet this little girl on Sunday and return a week later to pick her up but somehow it was a unanimous vote and we took her home.

I still Adore Ariel and we make sure the girls get as much exercise/play time and cuddles but Sophie stole our hearts and is only my hope that we can have her for many, many years to come.
Subscribe to my Free Newsletter!
With the free e-zine you'll get a house training flash course plus a handy infographic.
And your e-mail address is always safe with us, don't worry!
Jul 15, 18 09:38 PM

Stevie is a Pippet, a whippet/pit mix and she is the best dog ever. She does not bark much and she loves to run zommies just to run! She is beautiful

Jul 11, 18 11:12 AM

Lola is just nine months old and cannot go a day without running in the park chasing her favorite ball. Well ok, every ball is her favorite ball. She

Jun 17, 18 04:29 AM

Toby is our new family member 14 weeks old he enjoys walking , hiking , spending time with other whippets in the family and going to puppy school.