Do you have a whippety question? Enter here your query or keyword.
My Whippet Mix Phin
by Claudia
(Buffalo, NY)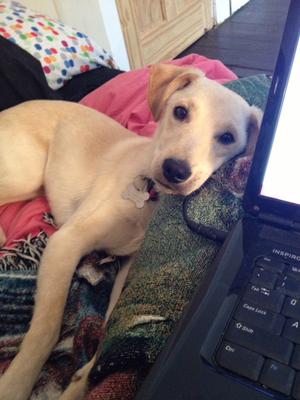 Meet my whippet mix Phin.

Last November I rescued Phin from a high-kill shelter in Tennessee. His teeth told he was about 5 months old, being born in early June. June birthdays are common in my family; my brother's is the 10th, my dad's the 11th, and my mom's the 13th. Fittingly, we decided to celebrate Phin's on the 12th. Last month he turned 2.

At first Phin was extremely timid- he crouched down in the lawn during walks terrified of every passing car- but since has broken out of his shell for the most part. He still acts skiddish at times, as he is afraid of any opening or closing of doors, and it sometimes takes some convincing for him to realize it will not shut on him.

Getting him in and out of the house is sometimes a pain but it is absolutely worth it and adds to why I love his personality so much. He is the sweetest most affectionate dog, who loves to cuddle and lay as close as possible!

Between my parents and two brothers, holidays and family gatherings bring together 4 dogs (pictured above). Phin is by far the friendliest and gets along with each the best, even Paris, a 9 year old Havanese-Lhasa Apso who doesn't care much for the other two, (6 year old Chloe, a chow husky and 1 year old Bentley, a chocolate lab).

He takes full advantage of his gazelle-like legs whether is is by showing off his speed,or in this case,a little affection. He gives signature "hugs" by standing on his hind legs, placing his front legs on your shoulders and nestling his head into your neck. I can't imagine my life without my roommate and best friend Phin.




Join in and write your own page! It's easy to do. How? Simply click here to return to Whippet Mix Pictures.