Do you have a whippety question? Enter here your query or keyword.
My Nu'u
by So'o
(Honolulu, Hawaii)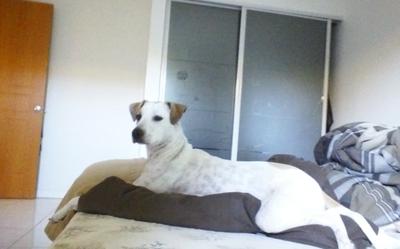 My Whippet Nu'u
Nu'u is a year old, very proud a rascal, and knows how to get her way. She's so smart and I believe she's training me hahaha! Love having her and can't see her with anyone else.
Join in and write your own page! It's easy to do. How? Simply click here to return to Whippet Mix Pictures.
Whippet Freebies!

Get a free book: Whippet Tails - Short Dog Stories,

plus

 an infographic and more as a welcome gift for your subscription to The Whippeteer, our free newsletter!

Don't worry your Email is safe with us, subscribe now!
Dec 08, 17 05:46 PM

The 'One' Life's just too short, my mind's made up. Now treatment's done, I'll buy a pup. I knew that some, would think me mad, But let them have, the

Nov 27, 17 11:40 AM

Ladybird is the most loving dog. She is very energetic, loves to play dance and run around in circles. She would never hurt a fly and loves every buddy

Nov 09, 17 05:30 AM

I have a male desexed 2yr old whippet who goes out to my partners farm and goes out hunting foxes, rabbits and kangaroos. When he stays in town with