Do you have a whippety question? Enter here your query or keyword.
Lótus Eliseu, the Beloved One
Lótus Eliseu, the Beloved One
by Madalena Pereira
(Parede / Portugal)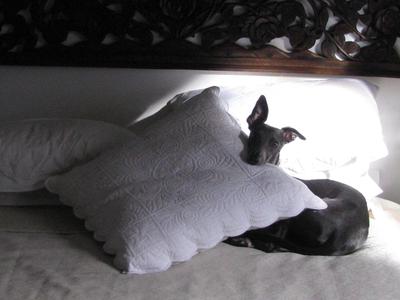 Lótus is my beautiful blue whippet.
He is 4 years old.
He is a sweetye but also a thief. Even when one is paying a lot of attention to a dish, he is so quick that the piece of food, desappears all of a sudden. He is fast as the light.
He was castrated because he was Cryptorchid, I mean he had a testicle inside his body which didn't come out, and the vets decided that it could be very problematic in the future.
After that he gradually lost is pleasure to run. He barely runs.
This lack of exercise plus the robbery is making him a little fat.
But he is so clever, so sweet, so dedicated and delicate and so funny and so beautiful that he turned out to be the treasure of our lives.
Join in and write your own page! It's easy to do. How? Simply click here to return to Dog of the Day.