Do you have a whippety question? Enter here your query or keyword.
Here is my Whippet Corbin in his Coat
by Wendy
(Northern NM)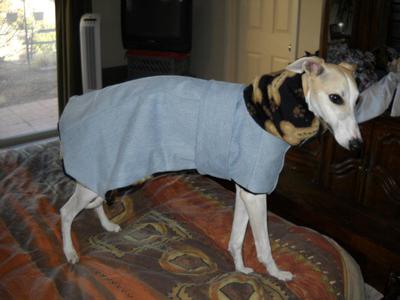 Toasty warm
He loves to chase our cat, who then chases him back (our kitty is a big orange tabby 19lbs at last weigh in), loungng on the bed all day and sun bathing in the window.
Join in and write your own page! It's easy to do. How? Simply click here to return to Dog of the Day.
Subscribe to my Free Newsletter!
With the free e-zine you'll get a house training flash course plus a handy infographic.
And your e-mail address is always safe with us, don't worry!
Sep 19, 20 08:51 AM

Hi, I need some boots for my whippets sensitive paws, but can't find ones that will fit well and stay on anywhere. Then I found Hunnyboots, which would

Sep 02, 20 11:05 AM

My previous dog was a much-loved whippet, but work has got in the way of owning another for the last few years. Now I'm winding down to retirement and

Aug 24, 20 12:56 PM

Twig is the star of the domestic performance. Wether hiding the remote by lying in it so nobody turns over her favourite TV or nuzzling the bees away from