Fonda Whippet Mix
by Ames Atkins
(North Carolina)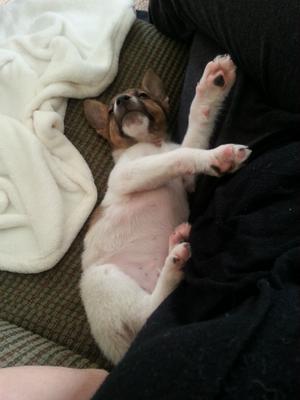 Fonda as a puppy
We got Fonda when she was 7 weeks old. She's almost 2 years old now. She loves to run-and she runs very fast. She was difficult to train however she responds well to positive encouragement. She has behaved much better once we started training her with that technique.

She loves other dogs. She doesn't like strangers very much unless they have their own dog.

We have no idea what her heritage is. Some days we think she is a pitbull/whippet mix. She runs with a big smile like a pit with her chest out. She has some hound in her. Her freckles are adorable. She has very thin to no hair around her lower belly and under her arms. We had to buy a harness that was softer because the traditional ones rubbed her skin raw within days.

She is a coach potato just like a whippet! She loves to rest her head on my shoulder while I'm siting on the couch.