Do you have a whippety question? Enter here your query or keyword.
Clara, the Whippet Cross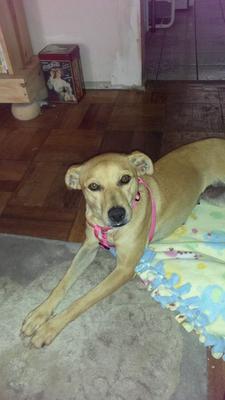 Clara, my beautiful, sweet girl
We adopted Clara two weeks ago. She is my very first dog!

She is 1 year old and was bounced from a shelter to another rescue facility. She is the sweetest, most loving dog. She has bonded with me, my husband, my son (4 yrs old) and my husband's granny's dog (we kept when she passed).

Clara makes friends with all the dogs in the area, she loves to take early morning walks with me, she loves to run with my husband and cuddle with all of us (especially my son).

She is so smart. We have all been training her to sit, lay down, stay, and come.

She is so eager to learn! She is gentle when taking treats from our hands and is very patient with my son. We have all fallen in love with her.

I am so very glad that she found a forever home with us. Clara "Belle" (as I call her) has helped us as much as we her... We go on family walks every day, turn off the tech and play together often.

JUST LOVE HER TO PIECES. ;O)
Join in and write your own page! It's easy to do. How? Simply click here to return to Whippet Mix Pictures.
Subscribe to my Free Newsletter!
With the free e-zine you'll get a house training flash course plus a handy infographic.
And your e-mail address is always safe with us, don't worry!
Jul 15, 18 09:38 PM

Stevie is a Pippet, a whippet/pit mix and she is the best dog ever. She does not bark much and she loves to run zommies just to run! She is beautiful

Jul 11, 18 11:12 AM

Lola is just nine months old and cannot go a day without running in the park chasing her favorite ball. Well ok, every ball is her favorite ball. She

Jun 17, 18 04:29 AM

Toby is our new family member 14 weeks old he enjoys walking , hiking , spending time with other whippets in the family and going to puppy school.