Do you have a whippety question? Enter here your query or keyword.
Wendy the Bully Whippet
What's a bully whippet? Read the story of Wendy the whippet, a strikingly muscular but still lovable dog.

Lately there has been a differentiation within the whippet breed between the show dogs and the racing champions to enhance the athletic performance.
While years ago the whippet was an elegant, well rounded dog that could perform in shows as well as in racing, today's whippets are more specialized.
The show dogs maintain the typical whippet outline, while the racing dogs tend to be more muscular.
The whippet Wendy was born from the cross between two muscular and extremely fast, but of normal appearance whippets that carried a mutant gene.
Some of the progeny, like Wendy, inherited the mutant genes from both parents and their appearance shows the mutation that magnifies muscle growth.
Wendy is one of the puppies that inherited the mutant gene from both parents.
Newspapers report that Wendy the whippet, despite her appearance, luckily retains the loving temperament typical of the whippet breed.
In these pictures is easy to compare Wendy's outline with that of a normal whippet.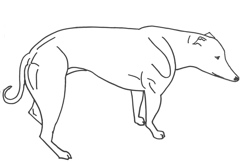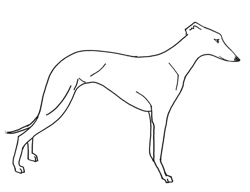 The bulky appearance of Wendy is due to a lack of the protein myostatin that limits the growth of body muscles.
The absence of this protein caused in Wendy an abnormal muscle growth.
This mutation is not an unknown phenomenon. It was observed and studied before also in cattle, sheep and mice.
It is actually selectively bred in cattle for the advantages it offers for meat production.
Click on the arrow to watch an interesting video from National Geographic and meet the super cow. The cattle you'll see is not on steroids but is the result of selective breeding for the development of muscle tissue.
Over the years, only the cows and bulls with the desired characteristics were bred, creating a a breed of champion meat producers.