Do you have a whippety question? Enter here your query or keyword.
Bronze Whippet Statues


The most popular bronze whippet statue is by the 1800 century artist Pierre Jules Mene. His whippet and greyhound figurines are marvelously lively and detailed. 
Who Was Pierre-Jules Mêne?



Pierre-Jules Mêne was born in Paris in 1810. He learned the trade from his father who was a metal turner and taught him at an early age the basics of casting and working with metals.

The young Mêne showed a natural talent for drawing animals and although he never had a formal training at an art school, he excelled in rendering and sculpting his favorite subjects.
He started his career by making models of decorative objects for porcelain manufacturers.
In 1837 Mêne established the first of a series of foundries where he began to cast his own sculptures.
Soon he began showing his creations at the Salon de Paris with a bronze called Dog and Fox. He was very successful and won several international awards for his works.
Mêne's inspiration came from the animal world, mainly from horses and dogs which he rendered with vivid details and accurate movements.
His fascination for horses was reflected in his ability to capture the movement and the equine elegance typical of hounds.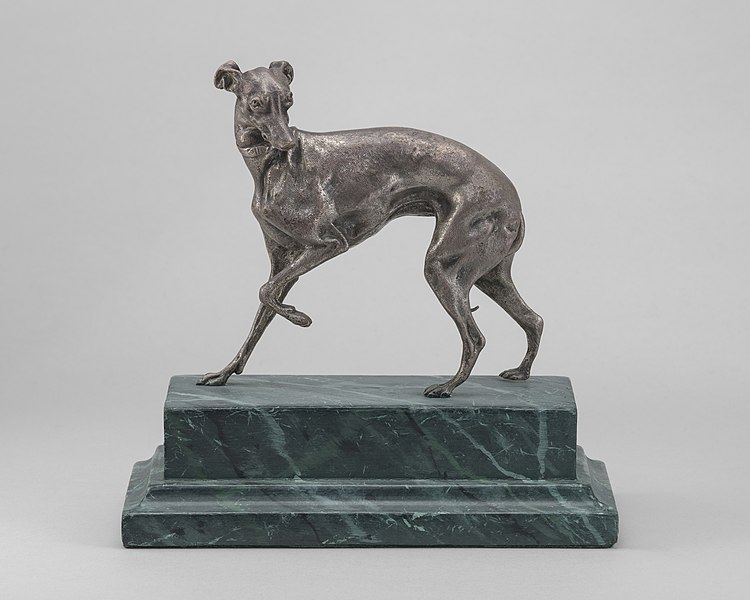 Mêne's Bronze Whippet Statue





His work met the taste of the rich bourgeoisie of the time and he became very popular in France, England and eventually his works were exported to America.
His catalog included more than 150 statues of which he made large editions, always keeping very high quality standard to preserve all the details of the original work.
Mêne's commercial success was also due to his convivial character that turned his workshop in a meeting point for the Parisian artists of the time.
After his death, the artist's work was carried on by his son-in-law, August Cain and then the models were sold to Susse Frères foundry which continued to sell Mêne's models almost to our days.
The best original works of Mêne's today are highly sought after by collectors and sell for top prices but it is also possible to find affordable good replicas.
Mêne's whippet statues and greyhound figurines impress us for their grace and for the author's ability to capture in their movement, the character of these beautiful dogs.
More whippet statues here.
Feeling artistic? Learn how to express your creativity and how to draw dogs the easy and the easiest way here!