Whippet Mix: Border Collie and Whippet
by Louisa Morrissey, owner of Skijor-N-More
(Silverthorne, Colorado USA)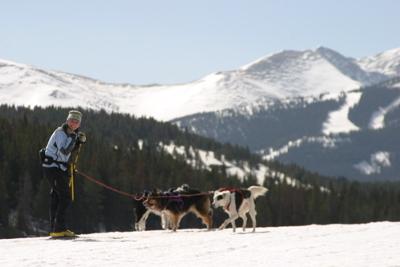 "ReRun" with his new forever family and brother and sister Linus and Lucy. I know he is part Border Collie and now I am pretty sure the other part is whippet.
We adopted a border collie mix last fall from Western Border Collie Rescue. He ended up in rescue because of his high energy. Having 2 border collies already and a very active lifestyle (I skijor and teach skijoring in workshops in Colorado) I instantly bonded with this new fellow.

I knew he was Border Collie but was wondering about the long legs and speed and head shape...as well as very sweet affectionate nature and I suspected some sort of sighthound mix in him. Then I looked up the Border Collie Whippet google, and here is our little guy.

What a fantastic dog. We love him so much! He is incredible as a skijor dog and LOVES skijoring as well as agility and other sports with his border collie brother and sister.

An incredible mix. We are sold!

Louisa
www.skijornmore.com
Caliwag the Whippet Mix and Other Dogs
by Kerry and Cali
(Birmingham)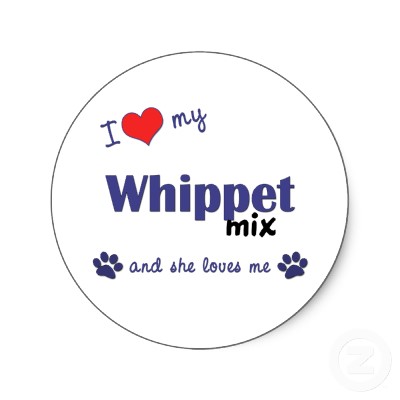 I rescued a whippet crossed with a border collie.

Her features are so beautiful but most of all you can get lost in her sky blue eyes.

When I got her in May, she just came into season.

It was hard as I wanted her to make herself at home, I guess I was just too easy on her.

I can't help it, she is so lovely and I just couldn't be strict with her until she settled in.

Behind the beautiful exterior lies a very fearful dog, I can't understand why as she comes from a litter of 9 pups.

Her hairs stand on end running down her spine every time a dog comes near and she doesn't even growl.

I want to take that fear away. I have tried to tell her off but when she is scared I can't help but understand she is fearful.

How do I come about this and how do I get her to befriend other dogs?

She is loosing that side of her heritage not being able to play and communicate positively with other dogs.

I really feel she needs that in her life.

I suffered terribly with agoraphobia until she entered my life and now I feel like I have so much strength to do anything.

I thank her every day for being in my life.

You should get a dog if you know you can put the time in, it is so rewarding and the unconditional love will never be matched up by a human.

Thank you Cali, I love you so much!
Bella the Ball, Whippet and Border Collie Mix (Lurcher)
by Teri Draper
(Parker, CO)
Bella the Ball, (Bella) was so named because initially she was so shy and timid after being rescued that no one could touch or handle her.

You may be familiar with the US saying, "She's the Bell of the Ball", meaning the most popular girl there.

I have a long history of rescuing dog that might not otherwise find a home, and this dog was no exception. All dogs I have rescued are either street dogs, (rescued right off the street), or have languished in Shelters for a long time, and are at risk at being put down, because they are considered "unadoptable".

I then rehabilitate the dogs, through Obedience Training, and either keep them myself, or find them a loving home.

I saw Bella on the website of a Shelter, and saw that she had been for there for a long time. This is not good for any dog. I had room for a new dog and decided to go get her.

When I got to the Shelter and met her, I was instantly taken. She was an all black dog, with a butterfly shaped white marking on her chest.

She had a Collie Head, and a Whippet Tail, but the Shelter insisted that she was a Labrador mix. She had large, deep brown eyes, and collie type ears.

The Shelter stated that she was Heart Worm positive, and would need further treatment, which they would pay for, if I took her to their Vet.

I still could not resist taking her home. Against my own policy, I did not walk her before trying to put her into the car, and she refused to get in. (It is very important to walk any rescued dog before trying to put them in car). I looked back at the Shelter, that was then closing, and saw all the staff, staring out the windows at me.

But fortunately, I am Master Dog Trainer, so I got in the car first, and then gently pulled on the leash. Bella then got in the car. But on the way home, she was car sick and vomited up all the treats my daughter and I had given her. (Second point, dogs have to be trained to ride in cars. If they are not, don't feed them lots of treats before a car ride).

Once home, Bella immediately hid in my room. I did not bother her, but let her settle in, and read her record that I received from the Shelter.

Third point, rescued dogs like to hide until they know how they will be treated. Sometimes up to 5 days.

A very disturbing picture emerged. Bella was apparently from a litter that was bred on purpose, but then something went wrong, and she ended up as a street dog in Oklahoma City, OK where she apparently survived on her own, until she had a litter of puppies at only one year.

She and her puppies were taken to a Shelter, but that shelter did not have room for her and her puppies, so she and her litter were transferred to Denver, CO, (where there is a high demand for puppies). The Shelter in Denver transferred her to another shelter near where I live, which is a Suburb, located about 25 miles South of Denver.

When the puppies were all 8 weeks old, there all taken away at once, and then Bella was spayed, causing her to go into a deep depression.

Fourth point, do not remove all puppies at once. Only take away puppies once they have a home. This is much more natural for the mother dog.

But what really shook me was that I found a negative heart worm test, after being told that Bella was heart worm positive! And I already had an appointment to give her the medication the Shelter claimed she needed.

Fifth Point: Whenever getting a new dog, from any source, always ask for the Vet records.

So, I took Bella for the Heart Worm medication at the Shelter's Vet, and I told them that I had noticed the negative test. They gave her the medication anyway, (by injection), and she became so ill that I had to take her to an ER Vet.

I called the Shelter Vet after this, but they did not return my calls, and they did not schedule any more appointments for her. My own Vet said that Bella did NOT have Heart Worms.

Sixth Point, always have any new dog checked by a Vet as soon as you get them.

Two days later, Bella jumped the fence and did not come home for five days.

We live in a Suburban area, with many wooded parts, a large golf course, and many trails. We went out calling her every day, and enlisted the help of friends, relatives, and neighbors. There were many sightings, but Bella would not come to anybody!

Everyone who saw her was amazed at how fast she could run!
Finally, at 5:00am on the sixth day, my other dogs started barking, and Bella was found, sitting on the front porch!

Now, after two years, Bella is a wonderful dog! Fully obedience trained, she is loyal, protective, and quiet! Bella seldom barks, and when she does, I know something is really wrong!
She is one of the best dogs I have ever had!