Do you have a whippety question? Enter here your query or keyword.
....and here they go
by Alan
(Lincoln)
....out for a little snoop around with Magpie and Zippy the whippet teen learning the ropes!
Join in and write your own page! It's easy to do. How? Simply click here to return to Whippet Mix Pictures.
Bedlington x Whippet and Border Collie x Whippet
by Alan
(Lincoln)
Gin and Merlin out on the Fen doing what they do best!
Join in and write your own page! It's easy to do. How? Simply click here to return to Whippet Mix Pictures.
Hancock lurcher
by Alan
(Lincoln)
Also popular in England is the Hancock - a Border Collie x whippet/greyhound. Here is Magpie itching to get out onto the Fen in rural Lincolnshire in my yard.
Join in and write your own page! It's easy to do. How? Simply click here to return to Whippet Mix Pictures.
Patches
by Farrin
(Heber Springs, AR)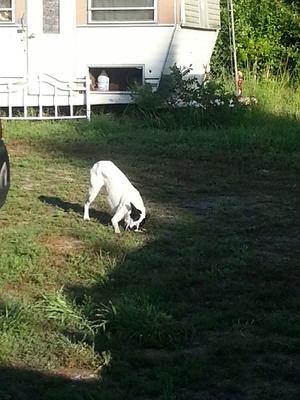 Patches playing outside
I rescued patches when she was 3 months old and was cute and could be!

She was very sick and shy though and the vet told me she was a full blood border collie but as she grew up she changed her fur coat and looked very small towards the back of her body and big in the front.

I really believe she is a border collie/whippet mix especially after seeing a picture of another dog on here who looks like her twin!!

To this day Patches is still very shy and scared but loyal dog
Whippet Mix: Border Collie and Whippet
by Louisa Morrissey, owner of Skijor-N-More
(Silverthorne, Colorado USA)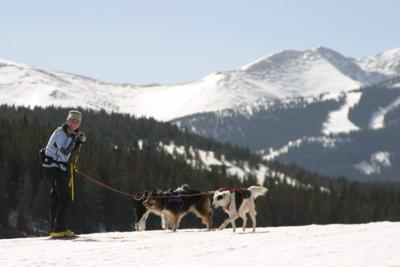 "ReRun" with his new forever family and brother and sister Linus and Lucy. I know he is part Border Collie and now I am pretty sure the other part is whippet.
We adopted a border collie mix last fall from Western Border Collie Rescue. He ended up in rescue because of his high energy. Having 2 border collies already and a very active lifestyle (I skijor and teach skijoring in workshops in Colorado) I instantly bonded with this new fellow.

I knew he was Border Collie but was wondering about the long legs and speed and head shape...as well as very sweet affectionate nature and I suspected some sort of sighthound mix in him. Then I looked up the Border Collie Whippet google, and here is our little guy.

What a fantastic dog. We love him so much! He is incredible as a skijor dog and LOVES skijoring as well as agility and other sports with his border collie brother and sister.

An incredible mix. We are sold!

Louisa
www.skijornmore.com
Caliwag the Whippet Mix and Other Dogs
by Kerry and Cali
(Birmingham)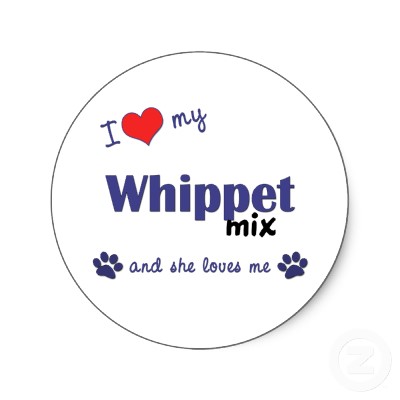 I rescued a whippet crossed with a border collie.

Her features are so beautiful but most of all you can get lost in her sky blue eyes.

When I got her in May, she just came into season.

It was hard as I wanted her to make herself at home, I guess I was just too easy on her.

I can't help it, she is so lovely and I just couldn't be strict with her until she settled in.

Behind the beautiful exterior lies a very fearful dog, I can't understand why as she comes from a litter of 9 pups.

Her hairs stand on end running down her spine every time a dog comes near and she doesn't even growl.

I want to take that fear away. I have tried to tell her off but when she is scared I can't help but understand she is fearful.

How do I come about this and how do I get her to befriend other dogs?

She is loosing that side of her heritage not being able to play and communicate positively with other dogs.

I really feel she needs that in her life.

I suffered terribly with agoraphobia until she entered my life and now I feel like I have so much strength to do anything.

I thank her every day for being in my life.

You should get a dog if you know you can put the time in, it is so rewarding and the unconditional love will never be matched up by a human.

Thank you Cali, I love you so much!
Subscribe to my Free Newsletter!
With the free e-zine you'll get a house training flash course plus a handy infographic.
And your e-mail address is always safe with us, don't worry!
Sep 19, 20 08:51 AM

Hi, I need some boots for my whippets sensitive paws, but can't find ones that will fit well and stay on anywhere. Then I found Hunnyboots, which would

Sep 02, 20 11:05 AM

My previous dog was a much-loved whippet, but work has got in the way of owning another for the last few years. Now I'm winding down to retirement and

Aug 24, 20 12:56 PM

Twig is the star of the domestic performance. Wether hiding the remote by lying in it so nobody turns over her favourite TV or nuzzling the bees away from