Whippet Puppies for Sale
Looking for whippet puppies for sale can be frustrating. This dog breed has a lot to offer but it was not made popular by famous movies or books and sometimes it can be difficult to locate whippet breeders near you.

We often receive inquiries from our visitors about whippet puppies for sale but we do not run a breeding kennel and seldom we have advice to offer about where to find a puppy, especially when the request comes from a country far from us.
In this page you'll find links to website that list puppies for sale. We hope this can be of help in the search of local dog breeders.
To find the perfect puppy can be a labor of love but keep in mind that you are going to enjoy the companionship of your whippet for many years to come and finding the perfect whippet puppy is worth a little effort!

Where to Look for Whippet Puppies for Sale

To make your search easier we listed some interesting links and websites where you can start your whippet quest.
Keep in mind that we cannot endorse any of the ads and breeders below.
Our best advice is to check the pet ads below, write or speak to the breeders, make sure they are reliable, they have experience with the breed and they have been involved in whippet events for years.
Don't be surprised if the breeder asks you to fill a questionnaire and sign a contract.
Reputable dog breeders want to know where their puppies go and will do their best to ensure the pups can blend in smoothly with their new human family.
Visit the kennel and ask to see the parents of the puppies. It should always be possible to see at least the mother of the pups.
And please, before buying a puppy, read this page about how to find a responsible breeder.
Don't rush, take your time, visit this page often and enjoy your search!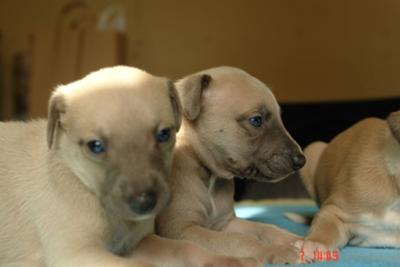 Have a look at our breeders pages. Visiting their websites is like a virtual dog show!


Click on the tile if you are looking for a whippet puppy in the UK.


Click here to check out more international ads about whippet pups for sale.
Go to TheWhippet.net Homepage

Back to Whippet Puppies

Whippet Freebies!

Get a free book: Whippet Tails - Short Dog Stories,

plus

 an infographic and more as a welcome gift for your subscription to The Whippeteer, our free newsletter!

Don't worry your Email is safe with us, subscribe now!
Aug 26, 17 11:47 AM

Located in Kitchener, Ontario Owned and Loved Whippets since 1971! Health tested yearly by board certified specialists Only breed 1 litter a year, puppies

Aug 24, 17 04:44 AM

Sassi at 6 mos old, learning to enjoy the water.